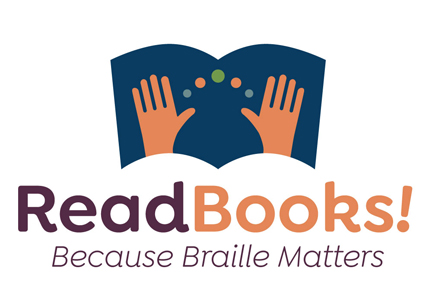 "She absolutely loves her book! The first day we received the book, she had me read it to her, literally, about ten times. She ran her fingers across the braille and looked at the big, bright pictures. It has become one of her favorite books."
Did You Know?
Did you know that as the parent of a blind or visually impaired child you are eligible to receive a free bag of beginning braille materials from National Braille Press?
Learning that your child has a disability can feel very overwhelming and it can be difficult to know where to go for help or where to find resources. We're here to make things just a little bit easier!
If your child is between the ages of birth and seven and is blind or visually impaired, we will send you one free bag full of fun and easy-to-read resources for both you and your child. And remember, you can request one bag for every blind child in your family!
Of course, you may not yet know exactly what your child's abilities will be. What can he see? Will she be a braille reader? Some parents may not know the answers to these questions until their children are much older, but that doesn't mean you can't expose them to braille in the meantime! Just fill out the form below, order a free bag, and begin a lifetime of learning and reading that you and your child will enjoy, no matter what their abilities may be!
Bags are available in English or Spanish.
Braille Bags Contain:
An age-appropriate print/braille book for three age groups, in English or Spanish: birth-3 (red bags), 4-5 (blue bags), and 6-7 (green bags);
A coupon for choosing two of the three following free items: a set of large print/braille playing cards; an additional print/braille book; a copy of Just Enough to Know Better —a braille primer for sighted parents;
A print/braille alphabet card, showing the braille symbol for each letter A-Z and each number 0-9;
Because Books Matter, a guide for parents on why and how to read books with their young blind child;
Because Pictures Matter, a guide for parents on using, finding, and creating tactile imagery;
A tactile graphic or flag;
A tactile ball (red bags only);
Wikki Stix, a product that allows a child to make tactile pictures (blue or green bags only);
Tactile Alphabet Letter sheets, showing upper- and lowercase print letters in raised-line format (blue bags only);
Tactile Number sheets (green bags only);
A braille caravan block.
What Other Parents Are Saying
"I want to tell you how wonderful the braille book bag that I received from you all for my 6-year-old son who is visually impaired. My daughter who is sighted has also benefitted greatly from the information in the bag."
"She is a very good braille typer and is even better now that she has learned more about contractions, etc. She has transcribed some kids books for a vision teacher in a local public school. She is a good resource for her brother. My husband and I have also learned a lot about braille and we are all continually impressed on how braille is used to bring the world to children who are blind or visually impaired. Thank you for making these bags so easily available!"
Ordering a bag is easy. Just fill out the request form below. Remember to let us know how many blind children are in your family and their ages so we can send you the appropriate bags.
<![endif] -->