In late 2008 NBP President, Brian Mac Donald, created the Center for Braille Innovation (CBI) in response to the rapidly changing digital world. CBI was created with four objectives in mind:
To identify emerging new braille technologies that will make accessible technology more affordable.
To develop digital and mechanical products that support students and adults in the digital world. Digital tests, digital textbooks and business documents need a real time digital graphic output for charts, and multiple lines of braille for reading complex equations and documents.
To have products that can be integrated with other mobile technologies and platforms for the IoT (Internet of Things) so that blind people can also take advantage of these new opportunities.
Identify technology solutions that can reduce the cost of our traditional braille and graphic production at NBP.
Team CBI
Team CBI has had over 25 people volunteer their time including individual engineers, researchers, TVIs, and organizations such as Google, IBM, University of Michigan, M.I.T., Northeastern University, and UCLA.

The first product we developed is the B2G, a portable braille computer/notetaker that costs thousands of dollars less than similar products on the market. A second product is the Tactile Caliper, a simple mechanical ruler that allows blind people to measure accurately to 1/16th of an inch. The Caliper was a prize winner from our Touch of Genius Prize, discussed below. See Products in Development for some of the other exciting partnerships we are working on.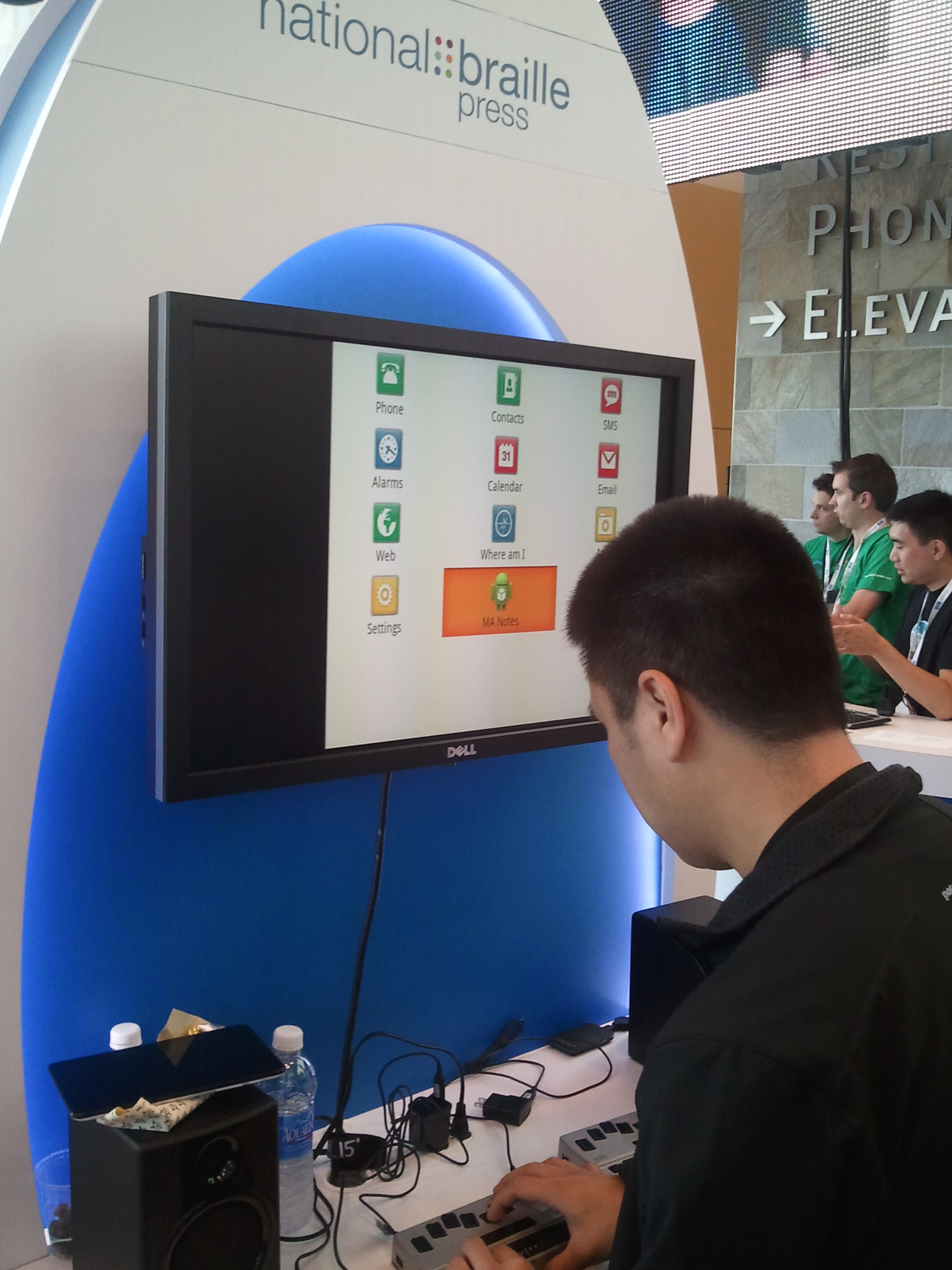 A blind user field testing the b2g, which is connected to a large output screen from NBP's booth, at the Google I/O conference
Touch of Genius Prize for Innovation
The Touch of Genius Prize for Innovation, a $20,000 prize provided through the support of The Gibney Family Foundation, recognizes an individual or group of individuals who contribute to innovation in the field of tactile literacy and software for blind people. As part of the Center for Braille Innovation, the Touch of Genius Prize helps inspire innovation in technology and education and acts as a vehicle for exploring partnerships with those who are on the forefront of tactile innovations. Learn more about the Touch of Genius Prize.