Make a lasting first impression with braille business cards! National Braille Press is an internationally-recognized producer of custom, high-quality braille materials. We can provide unique business cards printed with your design, large type, and pressed with braille.

Our inclusive design experts can help you reach the widest possible audience with an accessible business card, while providing a conversation piece for your next meeting!

What we offer
Full color, high-resolution printing with your custom design, font, or logo
Large print type
Embossed braille
Select a card style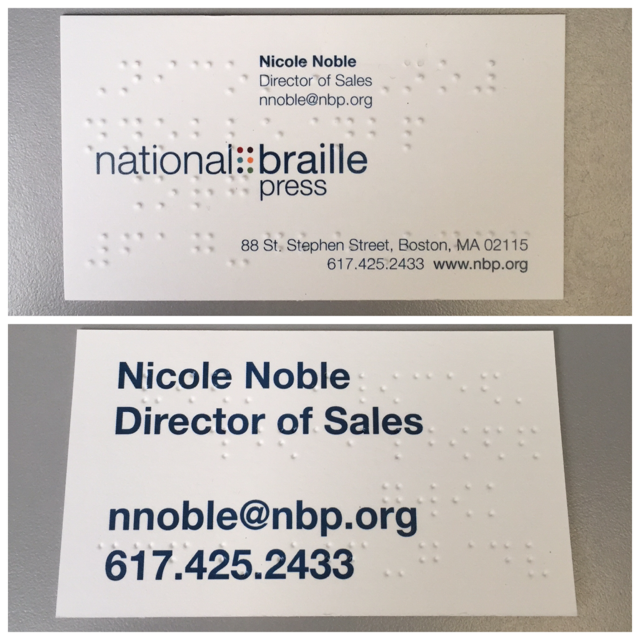 &nbsp &nbsp &nbsp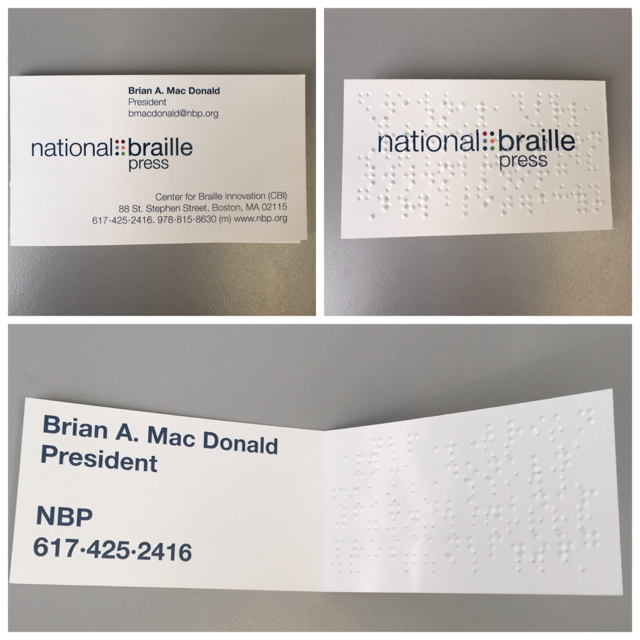 Frequently Asked Questions
Certainly! Please send an email request with your telephone and contact information to Nicole at nnoble@nbp.org.
At National Braille Press, each business card order is privy to our specialized production process, ensuring the highest-quality print and braille and tailored to your exact specifications. Our experienced team, including professionals certified in braille transcription and proofreading, will work with you on developing, prioritizing, and verifying the accuracy of copy for your business cards. The cards are printed on our own laser printers, embossed with braille using Heidelberg presses, finish trimmed to size, and shipped directly to you!
The production time can vary depending on your specifications and size of the order. If we receive pre-printed sheets, you will receive your braille cards in as little as 2 weeks!
Since braille is a fixed size, on a standard business card, 3.5" x 2", we can fit four lines of braille with 13 characters per line. The best way to determine what will fit on your business card is to discuss your priorities with National Braille Press.

Typically we press 8-10 standard size business cards set up on one 8.5" x 11" sheet, but other sizes and folding options are available.

To discuss your content and sizing questions, please call Nicole at 617-425-2433 or e-mail her at nnoble@nbp.org.
We are more than happy to work with your preferred printer.
For more information and rates, please contact Nicole Noble at nnoble@nbp.org or 617-425-2433.