Our Mission
NBP empowers the blind and visually impaired with programs, materials, and technology supporting braille literacy and learning through touch.
National Braille Press is the premier braille publisher in the US specializing in producing original braille works written by blind authors expressly for blind people.
Everyday our staff work to support blind people in their endeavors to lead productive, responsive, self-sufficient, and full lives by publishing in braille materials that are responsive to their needs. This includes developing technology and e-braille solutions to adapt with the digital world that we live in today.
We promote literacy for blind children through outreach programs and we encourage the teaching of braille to blind children by providing age-appropriate braille reading and support materials for caregivers and educators.
We promote braille literacy as an important employment and general living skill. We price these materials to be affordable, and we distribute them nationally and across the globe. NBP provides braille transcription and braille production services to like-minded organizations and to businesses to support braille and accessibility for all.
We Believe
Braille is an essential tool that helps people without sight become literate;
Blind people should be able to pay the same price for their braille publications as sighted people pay for print materials;
Schoolchildren should have their textbooks and tests at the same time as their sighted peers;
Our goal as a nonprofit is to raise sufficient funds to support these services;
We are especially sensitive to discrimination and the concerns of disadvantaged populations. Our hiring and supervisory practices encourage competitive employment for qualified disabled individuals;
We believe in inclusion and supporting the rights of every human being, and we deplore discrimination, oppression, violence, and racism.
Our Vision
National Braille Press strives to be a global leader in producing high quality, affordable braille materials and developing innovative technologies that advance braille literacy for blind and visually impaired children and adults everywhere.
Francis Ierardi
Francis was born in Armento, Italy on September 1, 1886. His family moved to NYC in 1887. He lost his sight at age 12 after a dynamite cap in a box of nails exploded near him. After losing his sight, he worked selling newspapers and as a shoe-shiner to supplement his family's income
In 1901 he persuaded his family to move to Boston so that he could attend Perkins School for the Blind. After graduating, Francis became a social worker for the Massachusetts State Division of the Blind.
During WWI, Francis realized that there was not a source of current world and news media available for the blind, with most blind people relying on family and friends to read them the news. So, in 1918, Francis began his quest to bring a braille newspaper to life.
Between 1918 and 1927, Francis secured the funding to produce a weekly newspaper from the MA Association for Promoting the Interests of the Adult Blind, and benefactors, Mrs. Homer Gage. Messrs. Christian Herter and Richard E. Danielson. "Volunteers, working evenings, produced the first issue of 200 copies, which were stitched by hand, collated, and rolled in paper. We had no mail bags, and by taxi we transported the magazine to the South Postal Annex in mattress ticking." All of this support made it possible for the first edition of The Weekly News to come out on March 17, 1927.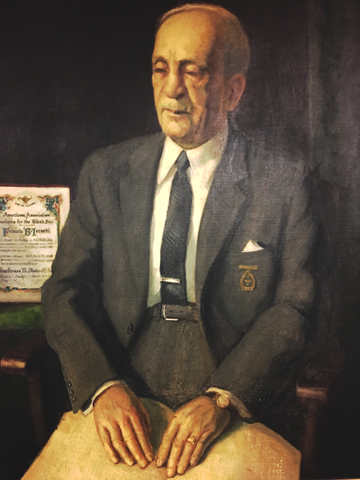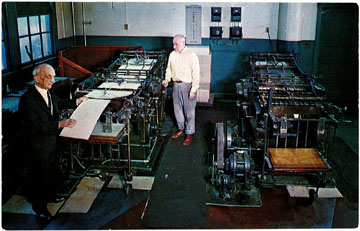 National Braille Press Beginnings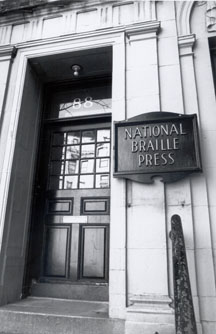 Originally intended to be only a statewide production, The Weekly News demand became so great from other states, it became a national publication after three months. Interest even brought it to some other English speaking countries, making it international.
One of the challenges in keeping the paper alive was establishing funding. The Perkins Institution for the Blind helped during the first year. From 1927-1946 the paper continued to grow and occupied six buildings, leaning on generosity from institutions such as the Women's Educational and Industrial Union and the Paulist Fathers. NBP settled in its current location at 88 Saint Stephen St in Boston in 1946.
Francis continued to keep the paper weekly, believing that blind people should have the same opportunity to read news on a timely basis. He retired from NBP in 1965 and served as a consultant until he died in 1970.
Today, NBP has expanded beyond a single weekly publication and produces many braille materials for the blind community including books, tests, textbooks, technology books, children's books, airline safety guides, and more. Known as a leader in producing high quality braille, NBP's reach now also includes developing children's literacy programs as well as designing and promoting refreshable braille technology tools.