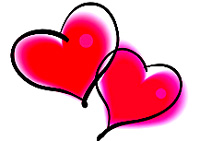 Valentine gift ideas for classmates, friends, colleagues, or that someone special!
---
BRAILLE JEWELRY
Braille "Together Forever" Necklace $43 plus s/h
Braille BFF Necklaces — Set of Two $47 plus s/h
Necklaces by Neat Art Studio

White porcelain, plated with white gold, 18" nickel-free brass base fine chain plated in bright 16k gold: $32.00 each plus s/h

Choose your favorite:
Ohm Silver Braille Beads $25 plus s/h
---
BOOKS
&nbsp

Print/braille (contracted UEB), $9.99
Little rabbit finds love everywhere, but knows that a parent's love is always the best love of all.

&nbsp
&nbsp

Print/braille, $6.99
Everyone has kisses for Baby, from Mami and Papi to perro and gato.

&nbsp
&nbsp

By Shel Silverstein
Print/braille storybook, $17.99
"Once there was a little tree ... and she loved a little boy." So begins a story of unforgettable perception, beautifully written and illustrated by the gifted and versatile Shel Silverstein.

&nbsp
&nbsp
&nbsp

Print/braille Touch-and-Feel board book, $7.95
Which type of animal kisses are your favorite?

&nbsp
&nbsp

Dating in the Digital Age: An Accessible Journey for Finding Love Online
By Kim Loftis
In braille, BRF, DAISY, and Word, $18.00 and up
If you've ever considered jumping into the world of dating, whether online or more traditional avenues, this book is for you!
---
PRINT/BRAILLE MAGNETS
All of our print/braille magnets make excellent gifts, but these are especially appropriate for Valentines Day.
&nbsp
"You are perfect to me." — Solomon, $5.00
&nbsp
&nbsp
"Us. Friends. Always." — Mary Anne Radmacher, $5.00
&nbsp
&nbsp
"Friends, like books, should be few and well chosen." — Samuel Paterson, $5.00
&nbsp
&nbsp
"If I had a flower for every time I thought of you I could walk through my garden forever."
— Alfred Lord Tennyson , $5.00
&nbsp
&nbsp
"We ought to be opening a bottle of wine!"
— Edith Wharton, $5.00
&nbsp
&nbsp
"YOU ROCK.", $5.00
&nbsp
&nbsp
"Anyone can be cool, but awesome takes practice."
— Lorraine Peterson, $5.00
&nbsp
&nbsp
"The best and most beautiful things in the world cannot be seen or even touched. They must be felt with the heart."
— Helen Keller, $5.00
&nbsp
&nbsp
"To the world you may be one person, but to one person you may be the world."
— Anonymous, $5.00
&nbsp
&nbsp
"Good friends are like stars. You don't always see them, but you know they're always there!"
— Old Saying, $5.00
&nbsp
---
PRINT/BRAILLE VALENTINES
Please note that all Valentine card orders will include shipping charges to ensure timely delivery.
&nbsp
&nbsp
&nbsp
&nbsp
&nbsp
&nbsp
&nbsp

$12 for 32 (large packs only)