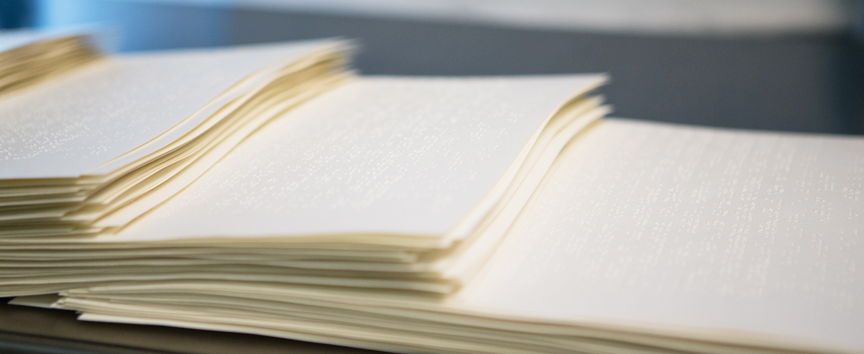 Braille Matters!
There is no substitute for the ability to read. For blind people, braille is an essential tool that aids in the process of becoming literate. Tape recorders and synthesized speech are useful tools, but they are inadequate substitutes for reading and writing. Braille literacy plays the same key role in a blind person's life that print literacy does in a sighted person's-it increases opportunities.
Research shows that braille literacy directly correlates with academic achievement and employment. The majority of working-age blind people are unemployed (74 percent) and depend on support such as disability income benefits. It is estimated that the lost productivity due to blindness and eye diseases is $8.0 billion per year in the United States. Of the 26 percent of blind people who are employed, the majority of them are braille readers. The correlation is clear - braille is an extremely important tool for blind people to become literate, and it is a critical component that supports educational advancement and increases employment prospects.
A National Crisis
Despite the link between braille literacy and employment, braille literacy rates for school-age blind children have declined from greater than 50 percent (40 years ago) to only 12 percent today. Part of the reason for this decline can be attributed to the mainstreaming of blind students into the public school system, where significantly less time is available for learning braille. Another factor is that many people believed that talking computers would replace the need to learn braille. However, listening alone is not enough. Research shows that braille provides a critical advantage for students to learn grammar, language, math, and science.
Braille in the Digital Age
In today's fast-paced world driven by technology, is braille still relevant? Access to information that the digital age provides is vital for all people - especially for blind and visually impaired people, who traditionally have had many barriers to information access. NBP believes that it is critically important for blind people to have equally accessible and affordable technology for staying connected through text messaging and e-mail, downloading textbooks, and reading novels.
While paper braille will not disappear in the immediate future, it is imperative that NBP provide braille information faster and more efficiently, in a variety of formats, and with new technologies that allow blind people to keep pace with the world around them. This transition into e-braille technologies is the cornerstone of National Braille Press's new direction as we move forward to ensure the general integration of accessible technology into mainstream products for work, daily living, household items, and public information.