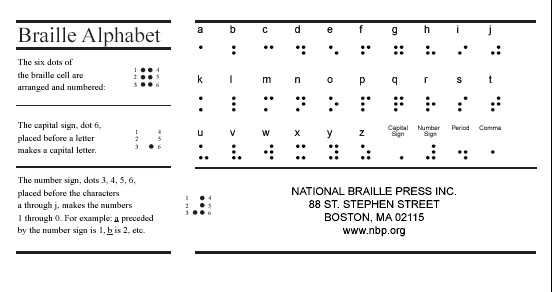 This is a visual representation of the braille alphabet without contractions. To conserve space and increase reading speeds, the braille code contains 189 contractions. You can download the alphabet card as a PDF file.
Braille is the system of six raised dots created in 1821 by French schoolboy Louis Braille. It is the only medium through which children with profound or total loss of sight can learn to read and write. National Braille Press and supporters of literacy for blind people throughout the world celebrated the bicentennial of Louis Braille's birth in 2009.
Would you like an embossed Braille Alphabet Card?
To have a free embossed Braille Alphabet Card mailed to you, fill out this form.
To purchase the Braille Alphabet Card in packets of 35 cards for $8.50 per pack, fill out this form.

National Braille Press appreciates your support for braille literacy!
If you're sighted and would like to learn braille - using your eyes - see Just Enough to Know Better.
National Braille Press is committed to publishing information in braille and advocating for literacy for blind children because the single most important gateway to opportunity is the ability to read and write.
Get Involved!
Also: Beautiful Braille Gift Ideas
Print/braille Refrigerator Magnets
Braille Alphabet Bracelets
If you would like more information or have questions concerning our Braille Alphabet Cards, please contact Customer Service toll free at 800-548-7323 ext. 520 or email Customer Service.