Innovision was granted the prize for the creation of Braille Me, a refreshable braille reader and simple notetaker. Innovision won $20.000 to continue their advancement and production of the BrailleMe. Their new, magnetic approach for raising braille pins shows tremendous promise to revolutionize the future of refreshable braille and bring more affordability to the cost of braille readers. NBP is very excited to work with Innovision on their distribution, as well as future projects involving their refreshable braille technology to get braille into more hands around the world.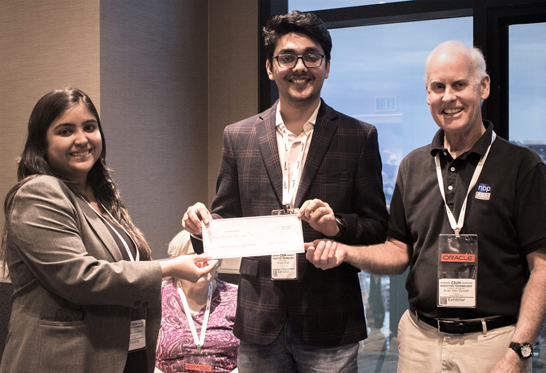 American Printing House for the Blind (APH) was granted an honorable mention for their development of BrailleBlaster, a free, downloadable braille translation software that translates text, as well as NIMAS files. This software is completely free and allows for basic formatting. APH hopes this will help to get textbooks and other materials in the hands of students more quickly.


Scott Blanks, Greg Hehret, and Naomi Rosenberg from Lighthouse—San Francisco and Joshua Miele from Smith-Kettlewell Eye Research Institute were granted an honorable mention for their development of TMAP, a free software which produces tactile maps of local areas and streets. TMAP can center in on any user specified location and produce files for useable, custom street maps. These files can be downloaded and printed at home or sent to Lighthouse to be embossed. Maps are provided with a key so measurements and other symbols can be easily recognized.


John Hudelson is the first place winner for his submission of BELLA — the Braille Early Learning and Literacy Arcade, an educational software and hardware gaming platform using audio, visual, and tactile feedback to teach pre-braille skills, braille reading, and braille writing. This device truly encompasses what the Touch of Genius Prize stands for; innovation and accessibility. The BELLA is a great programmable tool for teachers to support students learning braille and braille literacy.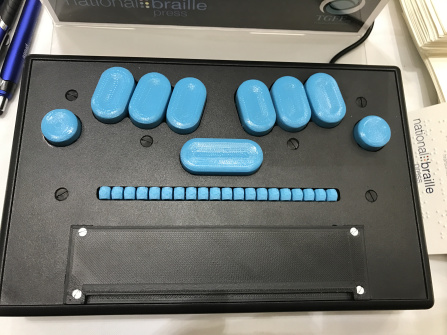 The BELLA
Mandy Lau's Reach and Match Learning Kit and Inclusive Learning Program received an honorable mention. This Kit and accompanying curriculum is designed for children with vision impairment as well as those multiple needs to develop braille literacy and communication & social skills through tactile strategies and play-based activities.


Dr. Betsy Flener ED. D. and Joni Nygard MS, CCC-SLP are granted the award for their submission of the "TactileTalk Toolkit and Guidebook for iPad: Strategies for Functional Communication and Literacy." "TactileTalk" is a complete program that teaches and reinforces tactile communication and literacy. It was designed for blind students who have additional disabilities and for young blind students who are not yet ready for formal braille instruction or are transitioning to braille. It is the first voice output system using tactile symbols with the iPad. It was developed because of the need for a lightweight, portable, easily accessible, inexpensive, and tactile communication system that could incorporate voice output. "TactileTalk" was developed by first examining the communication needs of visually impaired students with additional challenges. Those needs include the ability to request, make choices, protest, comment, and greet. Second the sensory and social needs of this population were considered and preferred items and activities for this population were selected for choices. Developed with simple navigation in mind the complete "TactileTalk" Toolkit includes 25 tactile overlays, 5 customizable overlays, the GoTalk NOW app, the TactileTalk Communication and Literacy Book, and the Guidebook. This is standardized system that can be individualized or customized to meet the needs of the student and can be used by all teachers including those who are blind or visually impaired.

Dr. Betsy Flener received her doctorate from Vanderbilt University in 1992 with a specialization in visual impairments and multiple disabilities and is currently a low vision education specialist and assistive technology specialist for the Green River Regional Educational Cooperative. During her career, she has taught children with learning disabilities, students with cognitive impairments, and has served as a district director and coordinator of programs for students with special needs. With over 25 years of experience working with visually impaired students including serving as a regional consultant for Kentucky School for the Blind, she has presented nationally on such topics as Septo-optic Dysplasia, technology, advocacy, self-determination, keyboarding skills, the iPad for students with multiple disabilities, Response to Intervention (RtI), and literacy for students with multiple disabilities. She completed 3 popular webinars focusing on the iPad for the American Foundation for the Blind. Much of Dr. Flener's current work focuses on low cost and portable technology solutions for blind and visually impaired children and also developing communication and systems of literacy for students who have visual and complex needs.

Joni Nygard, MS, CCC-SLP, has specialized in augmentative alternative communication (AAC) and assistive technology (AT) throughout her 30-year career, serving as an SLP in public schools (birth to 21); managing an AAC clinic at the University of Wisconsin-Madison, Trace Research and Development Center; and most recently developing AAC products and training materials at Attainment Company. Joni authored Early Literacy Communication Overlays, a companion book for Early Literacy Skills Builder and co-authored TactileTalk Guidebook as well as articles in Closing The Gap publications. She also co-authored the What's Cool About Music app. She is a frequent presenter at national and international conferences on AAC/AT-related topics with an emphasis on literacy and communication for all students. Her passion is advocating for individuals with complex communication needs of all ages in school, medical, and community settings. Currently, Joni is Director of Speech & Language Product Development and Director of the Aging Resources Division for Attainment Company, Verona, Wisconsin.


Braille Tutor
TechBridgeWorld Research Group was granted the award for their submission of the "Braille Tutor." The Braille tutor is a device created to give audio feedback in real time to a student learning how to use a slate and stylus addressing several challenges students may face. The project consists of two devices the Braille writing tutor which connects to a laptop and the Stand-Alone Braille Writing Tutor (SABT), a battery-powered standalone version of the BWT with onboard computing. Both the BWT and SABT devices are equipped with several learning modes and educational games. The main objective of these devices is to teach the skill of writing braille using the slate and stylus through guided practice. These devices have been tested with partner institutions in the United States, Bangladesh, China, India, Qatar, Tanzania and Zambia. The basic braille learning modes are available in many different languages including English, Arabic, Bangla, Chinese, French, Hindi, Kannada, and Kiswahili.

TechBridgeWorld Research Group at Carnegie Mellon University creates state-of-the-art computing technology solutions to address the needs of underserved communities around the world. Collaborators for the Braille Tutor are: Nidhi Kalra and Tom Lauwers who invented the BWT, Tom Stepleton and Daniel Dewey who developed the second version of the BWT, Samitha Ekanayake who led development of the SABT. M. Freddie Dias who helped develop both the BWT and SABT, Vivek Nair who is furthering development of the SABT, M. Bernardine Dias who is the Principal Investigator of the Braille Tutor project, Ameer Abdulsalam, Rotimi Abimbola, Hatem Alismail, Sarah Belousov, Nikhil Bikchandani, Brett Browning, Edward Cai, Madeleine Clute, Yonina Cooper, M. Beatrice Dias, Amal El-Ghazaly, Noura El-Moughny, Alex Etling, Imran Fanaswala, Hend Gedawy, Wael Ghazzawi, Gary Giger, Maddie Gioffre, Bradley Hall, Salem Hilal, Jen Horwitz, , Poornima Kaniarasu, Aditya Kodkany, Nick LaGrow, Pengfei Li, Jessica Lo, Brian Manalastas, Jeffrey Mich, Jonathan Muller, Daniel Nuffer, Kaleem Rahman, Shree Lakshmi Rao, Neha Rathi, Lucas Ray, Saurabh Sanghvi, Aveed Sheikh, Aysha Siddique, Kory Stiger, Jeremy Stolarz, Dylan Swen, Ermine Teves, Anthony Velázquez, Zi Wang, Avia Weinstein, and Tangrui Zuo.
Intuitive STEM Accessibility System
Rahul Namdev was granted honorable mention for his submission of the "Intuitive STEM Accessibility System." The Intuitive STEM Accessibility System uses a mini, high-speed refreshable hyperbraille tactile display which uses mechanical piezoelectric binary pins which move up and down in order to display tactile graphics. The device is also embedded with a touch sensitive surface which enables the user to interact with the device. The tactile display is mounted on an XY 2D gantry to increase the overall tactile spatial resolution of the system. In order to increase the usability of the system a Nod-Ring has been equipped with motions sensors, a blue-tooth 4.0 antenna and a pair of in-built pair of processors that allow the user to zoom in and out of any text/tactile graphics displayed on the braille device. To input data to the device MSVGLatex, a high-quality Latex program, is being developed for automatic transcription of Latex files and Scalable Vector Graphics into braille.

Rahul Namdev is a graduate student in Computer Science at Massachusetts Institute of Technology (MIT). He completed his Bachelor's in Technology and Masters from IIIT-Hyderabad in India. He works with Prof. Pattie Maes in MIT Media lab. For the past year he has been working on his STEM Accessibility project to make STEM educational information accessible to blind and visually impaired people in an intuitive way. His work also includes the MIT Fifth Sense project in MIT RVSN Group with Prof. Seth Teller.


iBraille Challenge App
Cheryl Kamei-Hannan and Nancy Niebrugge were granted the award for their submission of "The iBraille Challenge App." The iBraille Challenge is a mobile app that is designed to support Braille reading and writing of students in grades 1st through 12th grades. It is aligned with The Braille Challenge®, a national Braille reading and writing contest that is taken by more than 1,000 blind and visually impaired students at 43 different sites in the U.S. and Canada. The "iBraille Challenge app" includes two major components: one to focus on reading and another to focus on writing Braille. Using an electronic Braille display that is paired with an iPad, both literacy components support English Unified American Braille code (EBAE) and the newly adopted Unified English Braille code (UEB). Within each component are tests that reflect the core skills tested in The Braille Challenge to provide practice and support for students wishing to improve their performance.

Dr. Cheryl Kamei-Hannan is an Assistant Professor in the Division of Special Education and Counseling at California State University Los Angeles. She is also the coordinator of the Education Specialist Credential Program in Visual Impairments. Dr. Kamei-Hannan received her Master's Degree in Special Education from San Francisco State University and her Ph.D in Visual Impairment and Blindness from the University of Arizona. Dr. Kamei-Hannan has worked in the field of visual impairment and blindness in California and Arizona for over fifteen years. Dr. Kamei-Hannan's research agenda is focused on literacy issues with students who are visually impaired and the use of assistive technology to support access to the general education curriculum.

Nancy Niebrugge is currently the Assistant Vice President of Programs and Services for the Braille Institute. She is also the director for the annual Braille Challenge. Ms. Niebrugge has worked with the Braille Institute for over 15 years serving as director of both the Braille publishing and communication departments. Ms. Niebrugge attended California State University, Los Angeles.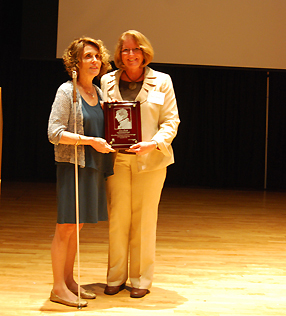 Nancy Niebrugge and JoAnn Becker, of NBP's Board of Trustees
Tactile Caliper
Pranay Jain and Anshul Singhal were granted the award for their submission of the "Tactile Caliper." The "Tactile Caliper" is a mechanical device and looks like a traditional Vernier Caliper. Whole units are statically embossed in braille on a main scale while fractions are dynamically displayed on a sliding jaw by a patent-pending display mechanism. The instrument displays complete measurements in braille that can be read instantaneously with accuracy as fine as one-sixteenth of an inch. It provides significant performance advantages while being as simple, inexpensive and convenient as traditional instruments.

Pranay Jain is a graduate student in Mechanical Engineering at Massachusetts Institute of Technology (MIT) and a fellow of Tata Center for Technology and Design. He runs a start-up developing Assistive Technology for persons with Blindness. Mr. Jain graduated as a Production and Industrial Engineer from IIT Delhi in 2012. Before joining MIT and after graduating from IIT Delhi, he worked with Mr. Singhal developing TacRead, a low-cost refreshable Braille display which is a patent pending technology based on his undergrad thesis at IIT Delhi.

Anshul Singhal is currently the Assistant Manager for Engineering Design and Product Development for JCB India Ltd. in Faridabad, India. He received his Bachelor's of Technology in Production and Industrial Engineering from the Indian Institute of Technology Delhi in 2012. Since 2012, Mr. Singhal has worked with Mr. Jain developing TacRead, which is now in pre-production and co-founded a start-up developing Assistive Technologies for the persons with Blindness. He will be joining Massachusetts Institute of Technology (MIT) in Fall 2014 to pursue Masters in Mechanical Engineering.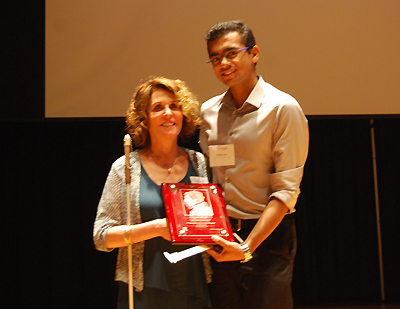 Pranay Jain and JoAnn Becker, of NBP's Board of Trustees
The 2012 Touch of Genius Prize for Innovation was awarded to Emily Wharton for her submission of "Code Master Adult Braille Instruction System." Code Master breaks the learning of the braille code down into two parts: sign memorization and development of the sense of touch. This makes the learning process faster and less stressful. Students finish learning the code within six weeks and begin reading material of interest to them. This system utilizes audio materials and technology to expedite the code learning process and provide more instructional options for students with different learning styles.

Emily Wharton has worked at BLIND, Incorporated in Minneapolis, Minnesota since 1998. She has taught and developed curriculum for cane travel, personal management, assistive technology, and braille. She received National Orientation and Mobility Certification in 2001 and a National Certification in Literary Braille in 2010. She earned a Master of Fine Arts in Writing from Hamline University in 2005.
A $5,000 Honorable Mention was awarded to the team of Michael Rosen, Michael Coleman, and Joshua Coffee from E.A.S.Y. LLC for their submission of "inTACT™ System for Interactive Tactile Graphics." inTACT™ is a first-of-its-kind three-component product system for interactive production, editing, digitizing, and reproduction of freehand raised-line graphics: the inTACT™ Tablet, Eraser, and Printer. It is based on standard methods for hand-scribing raised lines on thin plastic sheets. Its functional innovation lies in the ability it affords its users to continuously create and modify a drawing while changes are being recorded and shared digitally.

Michael Rosen, Michael Coleman, and Joshua Coffee are the founder engineers of E.A.S.Y. LLC, a start-up formed to develop and market innovative access technology. Rosen is a Research Associate Professor and Coordinator of Design Education in the UVM School of Engineering, focusing on neuromotor disabilities and design of technologies to overcome their effects. Coleman is a Senior Lecturer in the School of Engineering at the University of Vermont and a mechanical engineer with expertise in design, dynamics, computer simulation, mechatronics, biomechanics, and graphical communication. Coffee graduated with a BS in Mechanical Engineering from UVM in 2011 and works on readying new technologies for commercial sale to the Blind and Low Vision Community.
A $5,000 Honorable Mention was awarded to the team of Cagatay Concu, Kim Marriot, and John Hurst for their submission of "GraVVITAS: Graphics Viewer using Vibration, Interactive Touch, Audio and Speech." GraVVITAS is a multi-modal presentation device which uses touch screen and haptic feedback technologies to provide access to graphics for blind people. A data glove equipped with vibrating motors provides haptic feedback when the finger is over a graphic element on the tablet computer. GraVVITAS also provides speech and 3D non-speech audio feedback to help the user with navigation.

Dr. Cagatay Goncu, Prof. Kim Marriott, and Assoc. Prof. John Hurst began this project in 2008 as part of Goncu's PhD studies, collaborating with domain experts from Vision Australia and conducting usability studies with blind participants. Gonchu, a research fellow at Monash University, focuses on universal accessibility, multi-modal human computer interaction, tactile graphics, and information visualization. Marriott leads the Monash Adaptive Visualisation Lab (MArVL) at Monash University and inspired this project after realizing how important accessible graphics were in education for a blind second year university student. Hurst is an adjunct associate professor at Monash University whose passion is helping students in their learning processes and researching into technology-supported learning.
Ashok Sapre, the first international winner, was granted the Prize for his submission of "Tactile Accu-draw Graphics set" or "TAGs". TAGs uses multiple templates and hand- held tools to draw angular lines, irregular curves, circles, patterns of varied raised heights, and free hand sketches on paper. The project fulfills a long felt need of blind people and the teaching community to have a low cost, multifunctional, manual device to produce rich graphics and emboss braille notes in the same set-up. TAGs was specifically created with developing nations in mind where tactile graphics are absent in the education of blind students.

Ashok Sapre is a self-employed mechanical engineer. He was inspired to create TAGs after a visit to a school for blind girls in India.
Christine Short was awarded the Prize for her submission of "Feel the Beat: Braille Music Curriculum." This music curriculum uses the soprano recorder (popularly used by 3rd and 4th grade music teachers for teaching print music) to teach the braille music code to students who fluently read contracted literary braille. This curriculum also allows Teachers of the Visually Impaired, who have limited or no knowledge of print music, to teach the braille music code while learning music basics along with the student. The curriculum contains 3 parts: lesson plans, a recorder song book, and a student edition of the recorder song book.

Christine Short is a Teacher of the Visually Impaired (TVI) at the Iowa Braille School. Having limited music knowledge, Short developed the curriculum in order to learn and then teach the braille music code to a 4th grade student.
The 2010 Touch of Genius Prize for Innovation was awarded to Molly Brown, Jeff Witkowski, Patrick Cleary, and Ben Braggins for their submission of "Retrofitted Braille Embosser to an Inkjet Printer."
Because braille embossers are historically expensive, this group decided to create a low-cost embosser that uses readily available and inexpensive components like those found in an inkjet printer. This project includes a mechanical assembly to replace the ink cartridges in an inkjet printer with a braille embosser. This assembly is controlled by additional electronics and embosses one braille character at a time. The correct braille character is aligned by rotating encoded wheels using stepper motors. Two wheels are coded with holes around the circumference each representing half a braille character. The embossing force is an eccentric shaft driven by a motor running continuously while printing a line. The encoded wheels are pressed into a matrix of pins which emboss the paper. The modified inkjet does not require tractor feed paper.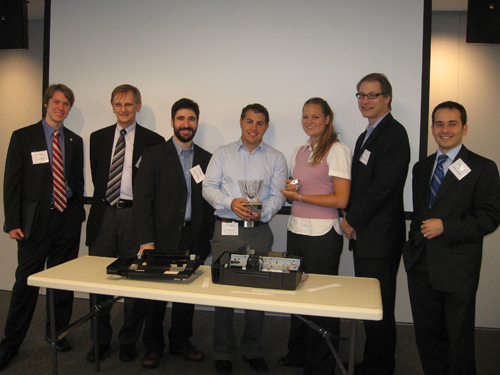 2010 Winners
Molly Brown, Jeff Witkowski, Patrick Cleary, and Ben Braggins recently graduated from Northeastern University. They created this retrofitted braille embosser as part of their Mechanical and Industrial Engineering Senior Capstone project after learning that braille assistive technology is very costly. They were awarded first place in their Senior Design course for this project. Northeastern believes so strongly in this project that they have applied for a provisional patent.
A $5,000 Honorable Mention was awarded to Jeffrey Killebrew for his submission of "Touch Grids".
Touch Grids is an instructional tool developed within Killebrew's physics classes at the New Mexico School for the Blind and Visually Impaired. Touch Grids facilitate greater mathematic and graphical literacy through the conceptualization of many graphical processes that utilize quantitative data by using a series of connectable and interchangeable grid panels, axes, and pegs. Possessing universal design features, this educational tool allows students with visual impairments the ability to bypass their visual deficiencies and gain greater independence, success, and ultimately access to advanced study or employment in STEM fields (acronym for Science, Technology, Engineering and Mathematics). A review of educational research reveals that students with visual impairments and blindness rarely pursue STEM subjects at an upper academic level because they do not have access to materials that allow them to fully understand these concepts.
Jeffrey Killebrew is a Science Instructor at the New Mexico School for the Blind and Visually Impaired in Alamagordo, New Mexico. Killebrew is a licensed Special Education Teacher, a licensed Teacher of the Visually Impaired, and a certified Assistive Technology Instructor. He was also the recipient of the 2009 Touch of Genius Prize for Innovation.
A $5,000 Honorable Mention was awarded to Diane P. Wormsley for her submission of "I-M-Able."
I-M-ABLE is an innovative individualized approach to teaching reading and writing braille that focuses on what is meaningful to the reader. Teachers have had success in using this approach with children who are blind and have additional disabilities and learning difficulties. This project will create a Teacher's Guidebook to accompany the existing I-M-ABLE materials which will include creative suggestions for materials, activities and games, record keeping forms, and case studies of successful students including video clips of lessons with these students.
Diane Wormsley is a Professor of Special Education in Visual Impairment at North Carolina Central Unversity. She is a certified teacher of visually impaired and hearing impaired students and has taught in New York, Pennsylvania, Australia, and Papua New Guinea. Additionally, Wormsley has authored many articles and books on braille literacy and education including Braille Literacy: A Functional Approach. Wormsley envisioned this project because teachers using her approach have suggested that a teacher's guidebook would be a valuable contribution to existing materials.
The 2009 Touch of Genius Prize for Innovation was awarded to Jeffrey Killebrew for his submission, "The System for Conceptualizing Spatial Concepts," also known as (SC)2.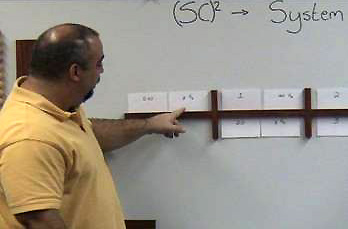 Killebrew using the device in his classroom
(SC)2 is an instructional tool for individuals who are blind that provides equal access and participation in science, math and related coursework. By utilizing a system of beveled and magnetized wooden blocks affixed to a magnetic white board, (SC)2 allows blind individuals to spatially arrange, manipulate, and calculate complex mathematical and scientific formulae by simply inserting 3 x 5 cards that students have brailled with values and labels of each term in a Janus slate. It allows blind individuals equal access and participation in the classroom while encouraging higher order thinking and greater scientific and mathematical literacy for blind students.
Jeffrey Killebrew is a Science Instructor at the New Mexico School for the Blind and Visually Impaired in Alamagordo, New Mexico. In addition to being a Science Instructor, Mr. Killebrew is a licensed Special Education Teacher, a licensed Teacher of the Visually Impaired, and a certified Assistive Technology Instructor. He developed this system for his students when they were having difficulty understanding spatial math problems in his chemistry class.
National Braille Press would like to thank all the applicants for the 2008 Louis Braille Touch of Genius Prize for Innovation. The Prize was established, with support of The Gibney Family Foundation, to identify and inspire innovation in the field of tactile literacy for blind people.
After careful deliberation, the adjudication committee has announced that no winner was chosen for 2008.
The 2007 Touch of Genius Prize for Innovation was awarded to Karen Gourgey and Steven Landau for their submission of the Talking Tactile Tablet.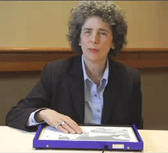 The Talking Tactile Tablet is an inexpensive and simple computer peripheral device that acts as a viewer for tactile diagrams, maps, and illustrations. Users place one of many overlay sheets on the Talking Tactile Tablet device and can explore a graphic using touch sense and/or vision. Dr. Gourgey and Mr. Landau have created a library of software programs for the Talking Tactile Table system, all promoting tactile literacy.
Click here for the Talking Tactile Tablet Video
The recipients presented their device at a symposium at Massachusetts Institute of Technology on October 25, 2007.
Dr. Karen Gourgey comes from a teaching background, having taught English at the high school level for some three years, and then served as an instructor in the Columbia Teachers' College Department of Special Education, where she received her doctorate in 1983. In that same year, she began as the Director of the Computer Center for Visually Impaired People (CCVIP) at Baruch College, City University of New York.
Steven Landau is Director of Research at Touch Graphics, Inc., a company Mr. Landau founded in 1997 for the purpose of commercializing research on audio-tactile interactive computing, to create new products for the blind and low vision markets. The company has been the recipient of numerous US government R&D grants, and has brought to market a Talking Tactile Tablet (TTT), a low-cost computer peripheral device that acts as a "viewer" for images produced in tactile (raised-line and textured) format. In 2006, the TTT won a Gold Medal in the IDEA Awards competition.
Leading support from The Gibney Family Foundation