NOTE: Due to the COVID-19 pandemic, Innovision in India has not been able to ship orders for Braille Me devices because their location is in a shut down, even for shipping services. We hope to be able to start selling them again very soon. If you'd like to be notified when the devices are ready for purchase again, email orders@nbp.org.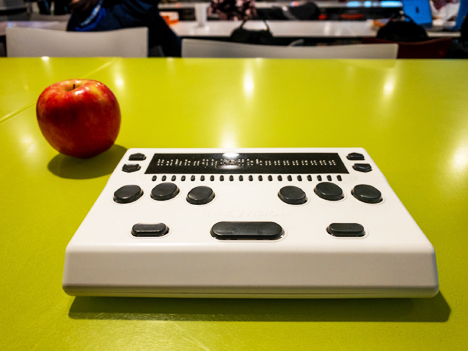 Note on pricing: The Braille Me is $515, and a handling fee of $16.50 is added in the price quoted above ($531.50 total). A shipping charge for UPS Ground will be added to your order upon checkout.
Distribution: NBP is the master distributor for the Braille Me in the USA, Canada, Mexico, Guam, Philippines, Guatemala, Cuba, The Dominican Republic, Haiti, Honduras, El Salvador, Nicaragua, Cost Rica, Panama, Jamaica, Trinidad and Tobago, The Bahamas, Belize, Barbados, Saint Lucia, Saint Vincent and the Grenadines, Granada, Antiqua and Barbuda, Dominica, Saint Kitts, and Vevis. Contact us.
Jump to Resources for Braille Me Owners
Braille Me is a new refreshable braille reader from Innovision, in India. Through their groundbreaking new technology, using magnetic force to power the braille display, the Braille Me has slashed costs, while keeping a high quality display. This device has 20-cell, 6-dot refreshable braille and a braille keyboard. The braille display had routing buttons below, as well as page navigation buttons to the left and right.
Files can be accessed by an SD card for reading, editing and searching. You can also rename and delete files from the device. The editor supports .TXT, .BRF, and .BRL files.
The Braille Me can Bluetooth with your smartphone or tablets (iOS or Android) and it can USB connect to a computer with an NVDA screen reader for a seamless braille and audio experience.
6-dot, 20-cell display
Cursor routing keys
6 key, Perkins style keyboard
Micro USB, SD card slot (up to 32gb), DC jack
Can connect via USB or Bluetooth to iOS and Android
Supports up to 50+ languages, and 5 languages per device
Read files of any size in .txt, .brf, and .brl format
Create/Edit files up to 100kb, cut/copy/paste/undo, and save files as a braille or text file
Compatible with screen readers BrailleBack, Voiceover, and NVDA
Battery charges in 1hr and charge can last for up to 12hrs
Heavy duty vinyl carrying case included
Under 1.3lbs (580g)
7.4in x 5.4in x 1.14in (W x D x H)
---
Here are some helpful documents and resources to get you started, or help you out if you have any questions, including a complete set of braille tables you can add to any SD card you wish to use with Braille Me:
Return Policy:
Please keep all packing materials that we send to you in case you need to return the unit for a repair or a refund. If some of the items are missing (i.e. the packing boxes), the refund or return policy might be voided by National Braille Press.
A refund for your device can be obtained within 30 days from the shipping date for the product, providing that the unit is returned undamaged, in new condition and returned with all materials in its original packaging box. See below for shipping instructions.
Instructions for Return or Repairs: You are the owner of your device and responsible for shipping it to NBP for return or repair. NBP is not responsible for damages or the loss of a unit by any carrier. It is recommended that the owner insures the package for loss or any additional damages that could occur in shipment beyond what was described in a repair.
NBP only provides service and technical support for the Braille Me device to customers who bought the device directly from National Braille Press. Any private sale of the device to a third party excludes this new owner from the return policy and the limited 1 year warranty.
Visit the Innovision website for more information about Braille Me and Innovision — including links to download the NVDA driver.