Draw It, Paint It, Color It!
Every child can be an artist.
We once heard about a blind student who was "excused" from class while the sighted kids were coloring. Nonsense. How does any kid pay attention to colors? By coloring — and drawing — and playing with watercolors that smell fruity!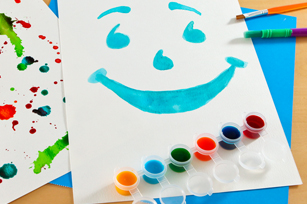 Make Your Own Sweet-Smelling Fingerpaints
Instructions
MIX contents of 1 envelope KOOL-AID with 1 Tbsp. water in small bowl.
REPEAT with remaining envelopes of KOOL-AID.
Add equal parts flour, cornstarch, or craft sand for a more tactile paint.
USE to paint pictures on construction paper or poster board with small paint brushes. Let dry completely. To prevent staining, have your child wear an art smock or apron when painting.

Tip: Add plain yogurt for a great edible recipe!
Build a Raised-Line Drawing Board
---
Who says blind kids can't draw? Of course they can.
They just need the right tools and some encouragement. Kids learn many things by drawing. And how do preschoolers draw and color? They scribble!

The important thing is for your child to be able to feel his or her scribbles: "I made this mark!" Here are instructions for making a Raised-Line Drawing Board. Simply build it, place a piece of paper on it, and use an ordinary pen or braille stylus to draw whatever you like. Feel the creation, and color it in!
Instructions
Place the screen on a flat work surface and then place your larger piece of board in the middle of the screen. There should be an inch or two of screen around the cardboard. Make sure that the excess screen is equal on every side of the board.
Next, fold back one of the overlapping edges of the screen and affix it to the cardboard with glue or other adhesive. Do this for all the sides.
Then, glue the second (slightly smaller) piece of cardboard over the top of the first board, covering the edges of the glued-down window screening. Use tape to hold it all together and to protect the child from any sharp edges.
Congratulations, you have successfully constructed your screen board.
How to Use the Drawing Board
Place a piece of paper on the side with the screen. Use your clip to hold the paper to the board so that it does not move.
Let your child draw or scribble on the paper with a crayon. The window underneath will cause a raised line to appear on the paper.
To introduce your child to various shapes, give her a cookie cutter and let her draw around it.
Now color it!
*Excerpted from "Refrigerator Art" by Susan Povinelli, Spring/Summer 2004 Future Reflections.
---
This activity was prepared by Hillary Welch Kleck for Great Expectations