Whether it's attending a gala featuring comedians such as Jay Leno or Howie Mandel or running in the most extraordinary road race of your life, National Braille Press has an event for you! Here are some of the ways you can have fun while making a difference!

---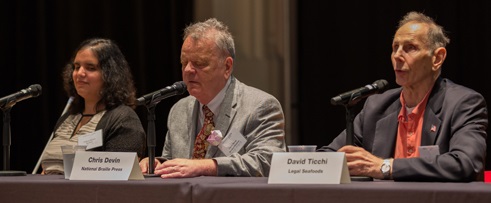 Recognizing 90 years of producing braille
and funding literacy programs for blind kids.
---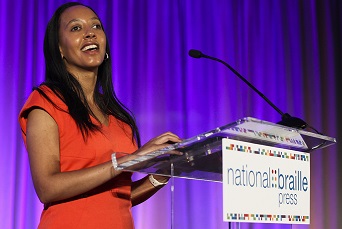 Plan on attending NBP's 2017 Gala at the Marriott Copley in Boston.
Listen to the entire 2016 Million Laughs for Literacy Gala and view pictures from the event!
---
90 Years, 9 Plates
On April 27th, guests at our 90 Years, 9 Plates event enjoyed a unique blindfolded dining experience. They filled the room with oohs, aahs, and gasps of surprise as braille reader Tanja led them through nine mystery courses. As they tasted each dish, attendees shouted out reactions and guessed at what they were tasting.

It was a true pleasure to slow down and savor every aspect of the dining experience with senses other than sight. We thank Hampshire House for the specially designed menu and the wonderful food plates created and prepared by Chef Marcus. April 27th was truly an evening of food and fun for a great cause — braille literacy!

---
&nbsp &nbsp
2017 Boston Marathon Team!
Monday, April 17th
Despite hot weather and the grueling 26.2 miles, Marissa Sullivan and Ilana Meyer triumphantly crossed the finish line of the Boston Marathon! NBP is thankful for their dedication to our mission and the thousands of dollars they raised for braille literacy. We also want to thank John Hancock for their support through the 2017 Boston Marathon Non-profit program! br>




&nbsp &nbsp




The Blindfold Challenge
at the BAA 5K
Saturday, April 15th

On April 15th, One Boston Day, NBP's volunteers ran through the backbay demonstrating the power of community and doing for others. We thank all of our runners for raising thousands of dollars for braille literacy! You can still be a part of their team by donating to their efforts!
---
We had a great time at the Louis Braille Bike-A-Thon with BikeBus! Watch the video of our team above. It's not too late to cheer on our team. Help us reach our goal of $6,000 by donating today!