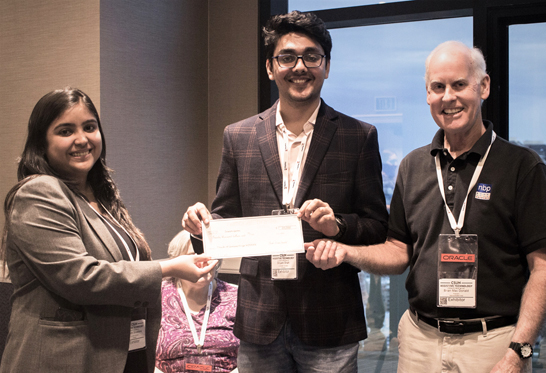 Brian MacDonald, NBP President, handing the winning check to InnoVision Technologies
Innovision was granted the prize for the creation of Braille Me, a refreshable braille reader and simple notetaker. Innovision won $20.000 to continue their advancement and production of the BrailleMe. Their new, magnetic approach for raising braille pins shows tremendous promise to revolutionize the future of refreshable braille and bring more affordability to the cost of braille readers. NBP is very excited to work with Innovision on their distribution, as well as future projects involving their refreshable braille technology to get braille into more hands around the world.
American Printing House for the Blind (APH) was granted an honorable mention for their development of BrailleBlaster, a free, downloadable braille translation software that translates text, as well as NIMAS files. This software is completely free and allows for basic formatting. APH hopes this will help to get textbooks and other materials in the hands of students more quickly.


Scott Blanks, Greg Hehret, and Naomi Rosenberg from Lighthouse—San Francisco and Joshua Miele from Smith-Kettlewell Eye Research Institute were granted an honorable mention for their development of TMAP, a free software which produces tactile maps of local areas and streets. TMAP can center in on any user specified location and produce files for useable, custom street maps. These files can be downloaded and printed at home or sent to Lighthouse to be embossed. Maps are provided with a key so measurements and other symbols can be easily recognized.


Special Thanks
We would like to thank Frank Gibney of the Gibney Family Foundation, who helped fund and established this award in 2007 to inspire people to go beyond what we thought was possible to further braille and tactile literacy.


The Touch of Genius Prize for Innovation was developed to inspire an innovator to continue the promotion of braille literacy for blind and deafblind people worldwide.
$20,000 will be granted for professional software & apps, educational software and apps, gaming software or apps that promote tactile and braille learning, and braille or tactile-related hardware.
Whatever your idea - whether a tactile-based technology project, a viable braille teaching software, a way to inspire pre-school braille learners through tactile hardware, or braille hardware for the community - we want to hear from you.
The Touch of Genius Prize for Innovation has attracted innovators from all over the world in the fields of education, technology, engineering, tactile graphics, and general literacy. This is the only prize to foster and reward innovation and offers a direct and compelling incentive for researchers, teachers and the like to support literacy efforts for blind people. Click here to view past award winners.
The Touch of Genius Prize for Innovation is provided through support from The Gibney Family Foundation. The Gibney Family Foundation supports non-profit organizations that are dedicated to assisting the blind and those who are otherwise challenged.