---
Download the application

The 2015 Touch of Genius Prize is being awarded to:
TactileTalk Toolkit and Guidebook for iPad: Strategies for Functional Communication and Literacy, a comprehensive program that teaches and reinforces tactile communication and literacy.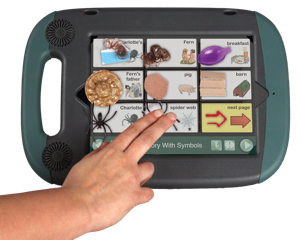 This is the first tactile communication and literacy system utilizing voice output to be developed for the iPad. Designed by Dr. Betsy Flener ED. D and Joni Nygard MS, CCCS-LP, the TactileTalk Toolkit was designed for students with visual impairments who have additional disabilities or for very young visually impaired children.

Research has shown that the use of tactile symbols is an effective approach in educating students with visual and multiple disabilities. Tactile symbols have been widely used for many years. Although various studies have cited the need for voice output to accompany tactile symbols systems, until now no viable, portable system has been available.

The complete TactileTalk Toolkit contains the GoTalk NOW App, TactileTalk Communication and Literacy Book, 25 premade tactile overlays, 5 customizable overlays, and a comprehensive 116-page TactileTalk Guidebook. The accessible guidebook features large print and is available electronically. It includes information about the development of TactileTalk, appropriate instruction in the use of tactile symbols, and ideas for additional tactile symbol overlays. Many illustrated examples are provided for making or customizing overlays for a range of students with visual impairments.

TactileTalk is produced by the Attainment Company and began shipping in January 2016.
Special Thanks
We would like to thank Frank Gibney of the Gibney Family Foundation, who helped fund and established this award in 2007 to inspire people to go beyond what we thought was possible to further braille and tactile literacy.


The Touch of Genius Prize for Innovation was developed to inspire an innovator to continue the promotion of braille literacy for blind and deafblind people worldwide.
$20,000 will be granted for professional software & apps, educational software and apps, gaming software or apps that promote tactile and braille learning, and braille or tactile-related hardware.
Whatever your idea - whether a tactile-based technology project, a viable braille teaching software, a way to inspire pre-school braille learners through tactile hardware, or braille hardware for the community - we want to hear from you.
The Touch of Genius Prize for Innovation has attracted innovators from all over the world in the fields of education, technology, engineering, tactile graphics, and general literacy. This is the only prize to foster and reward innovation and offers a direct and compelling incentive for researchers, teachers and the like to support literacy efforts for blind people. Click here to view past award winners.
The Touch of Genius Prize for Innovation is provided through support from The Gibney Family Foundation. The Gibney Family Foundation supports non-profit organizations that are dedicated to assisting the blind and those who are otherwise challenged.