Volunteering at National Braille Press was a mind-opening experience. I had a preconceived idea that braille was an obsolete system. I came away in awe of the possibilities it offers-from kids reading Harry Potter as quickly as anyone, to accessing the Internet in real time. Braille is here to stay. -Phillip, a volunteer from Mellon New England (currently The Bank of New York Mellon)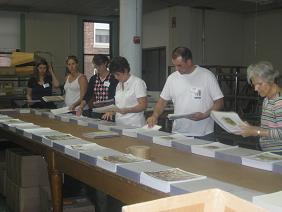 Help assemble print/braille books for blind children! National Braille Press offers monthly volunteer projects for groups of 12-25 people (size of group depends on type of project) in our Boston-based braille publishing facility located near Symphony Hall.
Volunteer projects are held during the weekday from 1-4:30pm, on Saturdays between 10am - 2pm, and in the evenings between 5:30-9:00pm. - You choose what time works best for your group!
Join National Braille Press's volunteer coordinator e-list by contacting ekent@nbp.org. You will receive quarterly e-blasts notifying you of the volunteer projects available over the next three months. As special projects arise, you will receive additional notices via e-mail.
Reserve your group volunteer date. All projects are reserved on a first come, first served basis.
On the day of your project, report to National Braille Press, 88 St. Stephen Street, Boston (directions). If you would like to see how braille is made before you start your project, tours of our facility are available upon request.
Feel good about yourself - you are helping bring literacy to thousands of blind children throughout the country.
See a list of children's print/braille titles that NBP has produced.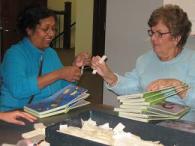 National Braille Press reserves spots for individuals at our monthly group projects. Individual volunteers who sign up for our volunteer e-list will be notified monthly regarding project dates. Children 12 years and older are welcome if accompanied by an adult.