The Holiday Sale is on!

And download our Holiday Gift Guide now!
NBP Holiday Gift Guide (PDF) &nbsp &nbsp NBP Holiday Gift Guide (BRF)

---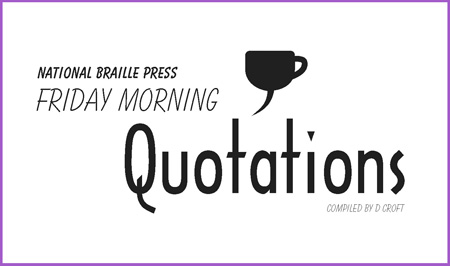 TGIF: Thank goodness it's Friday! 52 new quotes, one per week for a full year. These quote booklets make terrific gifts!

---
| | | |
| --- | --- | --- |
| | &nbsp &nbsp &nbsp | Judy Dixon and Doug Wakefield present two dozen tried-and-true travel apps that are, in one way or another, related to moving around - from moving around town to moving around the world. |
---
&nbsp &nbsp &nbsp

Asian and American Comfort Food

Cook with a MasterChef!
Millions of viewers watched Christine Ha sweep the thrilling Season 3 finale of MasterChef. Now you can bring her recipes home for the holidays!
---
The Definitive Guide to iOS 8 from a Blind Person's Perspective

Make the most of what iOS 8 has to offer!
---
Download our full 2014 Catalog now!
PDF Format &nbsp &nbsp BRF Format
---
Our Children's Braille Book Club features a new print/braille book every month, and our large print with braille books can be enjoyed by all!
We also feature a weekly newspaper and monthly women's magazine, with sample issues you can download for free.
Need help deciding which format to order? Find out which format will play on your particular device.
Instantly Download all our books! All NBP books currently available in eBraille format are now available as downloads! Read more here. Also be sure to check out our Free Downloads page!
Our Customer Service Department is available to answer your questions.

You can place your order in print or braille, or online at nbp.org.
We can invoice your agency from a purchase order; there is a $5 processing fee for this service. (There is no charge if prepaid by check or credit card.) You can fax a PO to us at (617) 437-0456.
We accept major credit cards: MasterCard, Visa, Discover, and American Express. Send us your credit card number, expiration date, CVC code, and daytime phone number, or call us toll-free at 800-548-7323 (US only).
You can fax an order to NBP 24 hours a day at (617) 437-0456. Be sure to include your credit card information or PO number.
All braille, tape, and disk orders are shipped "Free Matter for the Blind." Please allow 4-6 weeks for delivery. UPS rates keep going up, though they average about $8-9 per book.

Please call our Customer Service department (800-548-7323 - US only) to inquire about the UPS fee for your particular order.