Draw Tactile Buildings or Landmarks
Want to learn how to draw a tactile building or landmark in less than five minutes? Watch this short video and see how tactile artist Ann Cunningham does it!

Julie Deden is director of the Colorado Center for the Blind, and Dan Burke is in charge of student transition into higher education at the center.
How to Make a Quick Tactile Drawing
1. Go to your favorite search engine and type in keywords for the building or landmark you want to explore.
2. Find the image that most clearly illustrates the features you want to talk about (preferably an image where the baseline of the building is parallel to the bottom of the page).
3. Print the image in color or black and white onto regular copy paper (light-weight paper in the 20# range is easiest to draw on).
4. Place the paper on a tactile drawing board to trace. Lines are raised as you press down with a pen or stylus.
5. Start by tracing features the child may be familiar with. Work out from that area in increments. This enables a child to piece together an image in logical chunks of information.
6. Mention how each area relates to information the child may already know about the building or landmark.
7. Only trace enough information to make sense of the pertinent features. For example, I might trace only one window on each floor, not all the windows. I would mention something like, there are x number more, or that they run the entire length of the building.
8. At some point, draw a person to scale.
9. Encourage questions and "draw" the answers.
10. Visit the actual site or landmark!


---
Blind People Can Be Visual Learners, Too
Tasha Chemel is a blind artist and writer, currently pursuing her Master's degree at Harvard. Here she talks about being a visual learner and why tactile images are so important to her understanding of the world.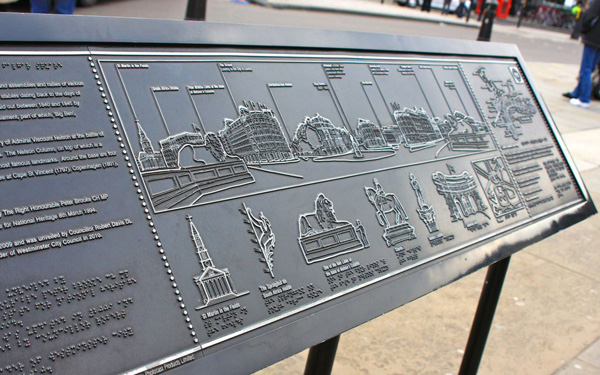 ---
This activity was created by Ann Cunningham for Great Expectations.