Pete the Cat Rocking School Map
Making tactile maps is fun and extremely useful! Kids (and cats) can run their fingers along a tactile map "wall" and visualize how they will use their canes to navigate the hallways.
Below are instructions for making your own tactile map, or: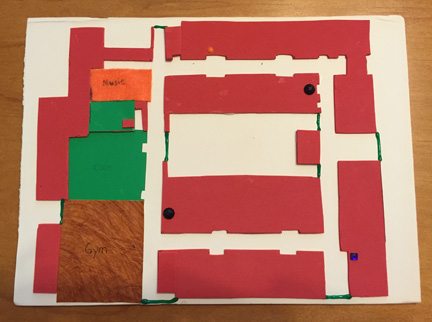 Tactile Map Description
Remember the golden rule of tactile graphics: Keep it simple!
How to Make a Tactile School Map
1. Ask the principal for a map of the school, or perhaps the school has a fire-escape map posted somewhere in the building. Print the picture.





2. Use a copy machine to enlarge the print map (I increased the size of my sample map 200%).





3. Attach the enlarged print map to the white foam board using masking tape. (Note: Scotch tape will tear the foam board.)


4. Use a sharp pencil or pen to trace the map. Make straight lines with a ruler, if you want. Faint indented lines will appear on the white foam board, which you will use to help align the map pieces.





5. When all the lines are traced, remove the print map from the white foam board. Now, attach the print map to the colorful foam sheet.


6. Trace the print map once again. Make sure the pencil/pen marks go all the way through to the foam sheets. Do not use sticky-back foam; it is easier to glue the colorful foam sheets onto the white foam board, which allows for more flexibility of placement.





7. Repeat the process to trace the larger areas (gym, cafeteria, library, music room, etc.) on different textured materials.


8. Cut out ALL the materials and lay them in place on the white foam board. (You can see the faint indentations on the white foam board.) Make sure the "hallways" are wide enough (at least 1.5 inches) to accommodate a finger running down them!


9. Use Elmer's glue to adhere the colorful foam and textured materials to the white foam board.


10. Add small textured shapes to indicate the classroom, bathrooms, and any other important rooms (where do they keep the catnip?). Keep it as simple as possible!


11. Use puff or slick paint to draw lines to indicate the main outside doors, typically located at the end of the hallway. (I used green puff paint.)


12. Indicate stairs by "stacking" — placing two identically shaped pieces of foam, one on top of the other. Stack the raised stage area, too.


13. If sidewalks are important, use bathtub treads (bumpy white rubber anti-slip strips) to indicate sidewalks.


14. Use masking tape to attach the original print map to the back of the tactile map for future reference.


15. Use a permanent marker to print the names of the various areas on the map, if desired. And braille, of course!


---
This activity was created by Diane Brauner for Great Expectations.