The Texture of Feelings
Textures can remind us of feelings we've had, and sometimes we even use the same words to describe textures as we use to describe feelings!


The things we feel with our hands can remind us of things we feel in our hearts. Can something soft and fuzzy make you feel happy because it reminds you of the puppy that you love? Yes! Can something silky and smooth make you feel calm because it reminds you of your cozy bed? Yes! Textures and feelings have a lot in common!

Textures Scavenger Hunt!


Pick 3 feelings from the list below and collect objects around your house or classroom with textures that remind you of those feelings.

If you are doing this activity with friends, family members, or classmates, take turns explaining the items you chose and why you chose them. Why does the texture remind you of a feeling? Remember: There are no right and wrong answers!
Feelings List:
| | |
| --- | --- |
| Happy | Frustrated |
| Sad | Annoyed |
| Grumpy | Anxious |
| Mad | Calm |
| Angry | Excited |
| Silly | Loved |
| Confused | Gloomy |
| Cheerful | Afraid |
| Curious | Sick |
| Confident | Embarassed |

Textures Word Play
Some of the same words we use to describe textures can be used to describe feelings, too! Have you ever felt a little prickly or had a rough day? Ever been in a sticky situation? When you love someone, does it make you feel warm and fuzzy inside?

Look at the list of textures below. Can you use any of these words (or other texture words) to describe a feeling you've had?
Textures List:
| | |
| --- | --- |
| Smooth | Prickly |
| Hard | Wrinkly |
| Soft | Squishy |
| Fluffy | Silky |
| Rough | Velvety |
| Sticky | Bristly |
| Bumpy | Feathery |
| Slippery | Coarse |
| Fuzzy | |
Make Texture Emoticons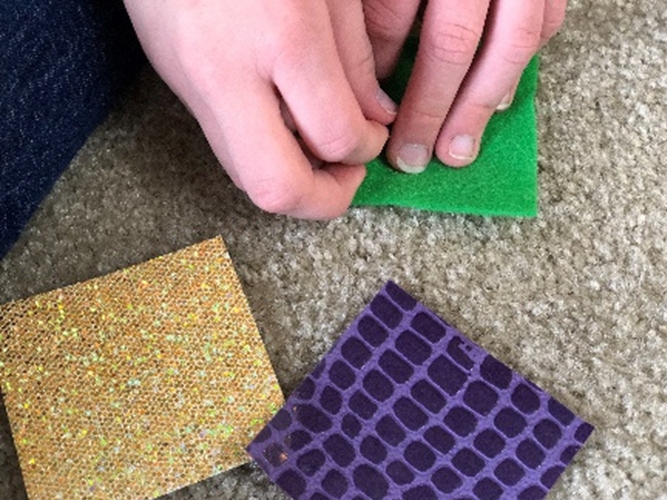 Emoticons are small pictures of faces with different expressions on them, like a smiley face for happy or a frowning face for sad. Try making your own emoticons using textures only! Pick your most favorite or least favorite emotion and make a small collage to represent that emotion. Here are some materials you could use to make your collage:
Scraps of different fabrics (fleece, silk, cotton, corduroy, felt)
Scraps of different papers (sand paper, construction paper, crepe tissue paper)
Small objects from outdoors (twigs, leaves, pebbles, bark)
Small items from around the house (coins, bottle caps, buttons, pastas, candies, yarn)
Glues, puffy paint, Velcro, glitter, tape
A braillewriter
Anything you want!!!
A Note for Parents and Teachers
Kids with visual impairments rely on their tactile system, or sense of touch, for everyday activities that are typically performed using vision. The tactile system has two primary functions: protective instincts and discrimination abilities. The protective function is reflexive and primarily relates to interpreting soothing sensations or danger reactions. Discrimination functions are cognitive abilities that are learned through experience, such as localization and recognition of objects and object characteristics. Sometimes children experience an imbalance in their tactile system, and may not be able to learn discrimination functions, as the protective reflexes may overwhelm them. Some signs of tactile system imbalance include: reacting negatively to touch; sensitivity to clothing, clothing tags, Band-Aids, or stickers; rejecting touching "messy" materials; craving touch; using only certain parts of the hand to touch; or not noticing when face or hands are messy. See the "Tactile Play" sidebar for tactile play activities that can help sensitize your child to touch.

Adapted from an article by Lisa Ricketts, OTR, Texas School for the Blind and Visually Impaired.
---
This activity was created by Hillary Kleck and Kesel Wilson, with contributions from Janet Ulwick-Sacca, for Great Expectations.