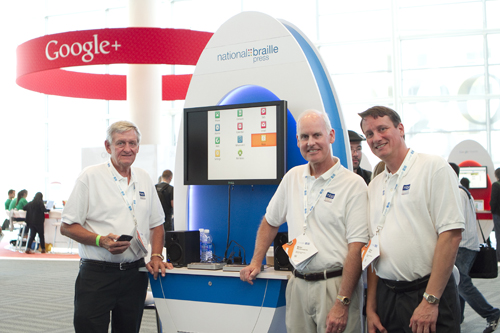 Deane Blazie, Brian Mac Donald, and Bryan Blazie
at Google I/O.
Photo by BayAreaEventPhotography.com
In 2008 Brian Mac Donald, president of NBP, recruited a core team of engineers, entrepreneurs, and researchers, blind and sighted, to comprise Team CBI. With experience from IBM, Motorola, and private firms, Team CBI is headed by Deane Blazie who is the pioneer of braille technology. He created the first affordable and fully functional portable braille note taker, the Braille 'N Speak, and next generation products, were the Braille Lite series. Team CBI members have been involved in various aspects of the project and we want to recognize them here for devoting their time and expertise as volunteers.
Brian MacDonald, President of National Braille Press.
Deane Blazie, engineer and inventor who founded Blazie Engineering, which became the world's largest producer of products for the blind. Deane is also a Trustee of NBP.
Noel Runyan, engineer and assistive technology (AT) consultant; developed the CBI Human Factor team focusing on AT features and ergonomics. Noel and John Glass also put many hours to develop the command set for the b2g.
Anna Dresner, Alice Conway, and Peter Cantasani, tech-savvy braille readers who comprise the CBI Human Factor team.
Paul Parravano, Former Chairman of the Board at NBP and Co-Director of Government Relations at the Massachusetts Institute of Technology (MIT).
Sile O'Modhrain, Associate Professor of Performing Arts Technology, University of Michigan - haptics and human-computer interaction expert.
Bryan Blazie, former VP of Blazie engineering; solar engineering expert.
The launch of National Braille Press's Center for Braille Innovation, created a new business model for developing more affordable accessible technology products. NBP has been supported by government agencies, non-profit organizations, universities, and for-profit companies like IBM, that advised with a common goal for affordable accessibility. Universities include: University of Michigan, Massachusetts Institute of Technology (MIT), Northeastern University, Bentley University, and the University of Tokyo.

Non-profits include: National Federation of the Blind, American Printing House for the Blind, American Foundation for the Blind, RNIB (Royal National Institute for the Blind), World Braille Foundation, American Council for the Blind, and the China Braille Press in Beijing. We would also like to acknowledge the Accessibility Team at Google for their guidance.

If you would like to donate to CBI technology, please go to our donation page.