The 2019 Touch of Genius Prize Winners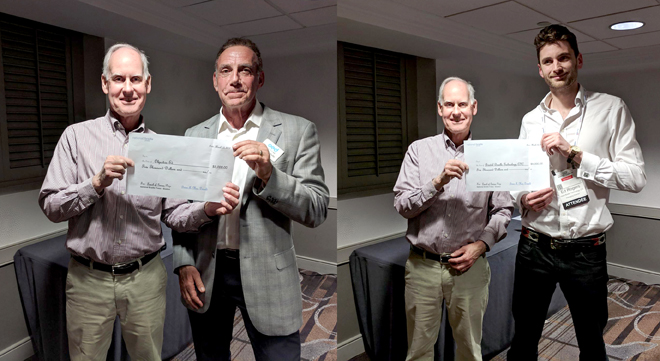 Left: Brian MacDonald (NBP) with Marty Shutz of ObjectiveEd.
Right: MacDonald with Ed Rogers of Bristol Braille.
NBP awarded the Touch of Genius prize to two winners at the CSUN Assistive Technology Conference on Wednesday, March 17th, 2019.

Canute — Bristol Braille Technologies — won $5000
The Canute is a 360 cell braille display, with 9 rows of 40 cells developed by Bristol Braille Technologies in the UK. The Canute will be the first affordable multi-line display on the market. Targeted toward education settings and libraries, and looking toward areas of math, science, coding and music, the Canute has endured many iterations and been a cooperative experience between braille readers across the world. This "kindle for the blind" is surely be an innovative game-changer and will only push forward braille literacy.

Braille Sheets — ObjectiveEd — won $5000
Braille Sheets is an interactive app to help children learn to read braille developed by ObjectiveEd. ObjectiveEd's mission is to help children with visual impairments maximize educational results. The app makes it easy to enter programs/lessons for students, see lessons from other teachers, and pair with an actual braille sheet where the student is tactile-y learning letters and words as they are getting real-time audio feedback. A collection of lessons and games, Braille Sheets will be a great supplement for teachers and an easy, affordable way to help students learn braille and become literate.

The Touch of Genius Prize is made possible by the support of the Gibney Family Foundation!
---
About the Touch of Genius Prize
The Touch of Genius Prize for Innovation is an annual prize of $10,000 awarded to a project, or projects, that show the most innovative idea in the field of braille and tactile literacy. Winners and applicants have submitted projects for professional software & apps, educational software and apps, gaming software or apps, and braille or tactile-related hardware or leaning paraphernalia.

Innovators have come from all over the world in the fields of education, technology, engineering, tactile graphics, and literacy. This is the only prize to foster and reward innovation in the area of braille and tactile literacy for the blind and deaf blind communities.

The Touch of Genius Prize for Innovation is funded through support from The Gibney Family Foundation, since inception in 2007. The Gibney Family Foundation supports non-profit organizations to help them develop sustainable products and provide services or support.

This prize was developed to inspire an innovator to continue the promotion of braille literacy for blind and deafblind people worldwide. The publication of Louis Braille: A Touch of Genius by National Braille Press was a huge success in promoting braille literacy to a wider audience. The promotion surrounding the book provided a springboard for launching the Touch of Genius Prize, providing the exposure needed to inspire an innovator.