The 2012 Touch of Genius Prize for Innovation was awarded to Emily Wharton for her submission of "Code Master Adult Braille Instruction System." Code Master breaks the learning of the braille code down into two parts: sign memorization and development of the sense of touch. This makes the learning process faster and less stressful. Students finish learning the code within six weeks and begin reading material of interest to them. This system utilizes audio materials and technology to expedite the code learning process and provide more instructional options for students with different learning styles.

Emily Wharton has worked at BLIND, Incorporated in Minneapolis, Minnesota since 1998. She has taught and developed curriculum for cane travel, personal management, assistive technology, and braille. She received National Orientation and Mobility Certification in 2001 and a National Certification in Literary Braille in 2010. She earned a Master of Fine Arts in Writing from Hamline University in 2005.
A $5,000 Honorable Mention was awarded to the team of Michael Rosen, Michael Coleman, and Joshua Coffee from E.A.S.Y. LLC for their submission of "inTACT™ System for Interactive Tactile Graphics." inTACT™ is a first-of-its-kind three-component product system for interactive production, editing, digitizing, and reproduction of freehand raised-line graphics: the inTACT™ Tablet, Eraser, and Printer. It is based on standard methods for hand-scribing raised lines on thin plastic sheets. Its functional innovation lies in the ability it affords its users to continuously create and modify a drawing while changes are being recorded and shared digitally.

Michael Rosen, Michael Coleman, and Joshua Coffee are the founder engineers of E.A.S.Y. LLC, a start-up formed to develop and market innovative access technology. Rosen is a Research Associate Professor and Coordinator of Design Education in the UVM School of Engineering, focusing on neuromotor disabilities and design of technologies to overcome their effects. Coleman is a Senior Lecturer in the School of Engineering at the University of Vermont and a mechanical engineer with expertise in design, dynamics, computer simulation, mechatronics, biomechanics, and graphical communication. Coffee graduated with a BS in Mechanical Engineering from UVM in 2011 and works on readying new technologies for commercial sale to the Blind and Low Vision Community.
A $5,000 Honorable Mention was awarded to the team of Cagatay Concu, Kim Marriot, and John Hurst for their submission of "GraVVITAS: Graphics Viewer using Vibration, Interactive Touch, Audio and Speech." GraVVITAS is a multi-modal presentation device which uses touch screen and haptic feedback technologies to provide access to graphics for blind people. A data glove equipped with vibrating motors provides haptic feedback when the finger is over a graphic element on the tablet computer. GraVVITAS also provides speech and 3D non-speech audio feedback to help the user with navigation.

Dr. Cagatay Goncu, Prof. Kim Marriott, and Assoc. Prof. John Hurst began this project in 2008 as part of Goncu's PhD studies, collaborating with domain experts from Vision Australia and conducting usability studies with blind participants. Gonchu, a research fellow at Monash University, focuses on universal accessibility, multi-modal human computer interaction, tactile graphics, and information visualization. Marriott leads the Monash Adaptive Visualisation Lab (MArVL) at Monash University and inspired this project after realizing how important accessible graphics were in education for a blind second year university student. Hurst is an adjunct associate professor at Monash University whose passion is helping students in their learning processes and researching into technology-supported learning.
---
Ashok Sapre, the first international winner, was granted the Prize for his submission of "Tactile Accu-draw Graphics set" or "TAGs". TAGs uses multiple templates and hand- held tools to draw angular lines, irregular curves, circles, patterns of varied raised heights, and free hand sketches on paper. The project fulfills a long felt need of blind people and the teaching community to have a low cost, multifunctional, manual device to produce rich graphics and emboss braille notes in the same set-up. TAGs was specifically created with developing nations in mind where tactile graphics are absent in the education of blind students.

Ashok Sapre is a self-employed mechanical engineer. He was inspired to create TAGs after a visit to a school for blind girls in India.
Christine Short was awarded the Prize for her submission of "Feel the Beat: Braille Music Curriculum." This music curriculum uses the soprano recorder (popularly used by 3rd and 4th grade music teachers for teaching print music) to teach the braille music code to students who fluently read contracted literary braille. This curriculum also allows Teachers of the Visually Impaired, who have limited or no knowledge of print music, to teach the braille music code while learning music basics along with the student. The curriculum contains 3 parts: lesson plans, a recorder song book, and a student edition of the recorder song book.

Christine Short is a Teacher of the Visually Impaired (TVI) at the Iowa Braille School. Having limited music knowledge, Short developed the curriculum in order to learn and then teach the braille music code to a 4th grade student.
---
The 2010 Touch of Genius Prize for Innovation was awarded to Molly Brown, Jeff Witkowski, Patrick Cleary, and Ben Braggins for their submission of "Retrofitted Braille Embosser to an Inkjet Printer."
Because braille embossers are historically expensive, this group decided to create a low-cost embosser that uses readily available and inexpensive components like those found in an inkjet printer. This project includes a mechanical assembly to replace the ink cartridges in an inkjet printer with a braille embosser. This assembly is controlled by additional electronics and embosses one braille character at a time. The correct braille character is aligned by rotating encoded wheels using stepper motors. Two wheels are coded with holes around the circumference each representing half a braille character. The embossing force is an eccentric shaft driven by a motor running continuously while printing a line. The encoded wheels are pressed into a matrix of pins which emboss the paper. The modified inkjet does not require tractor feed paper.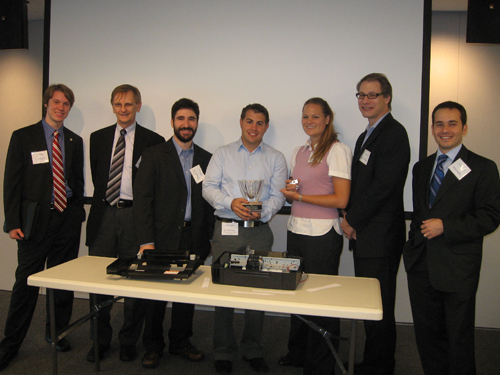 2010 Winners
Molly Brown, Jeff Witkowski, Patrick Cleary, and Ben Braggins recently graduated from Northeastern University. They created this retrofitted braille embosser as part of their Mechanical and Industrial Engineering Senior Capstone project after learning that braille assistive technology is very costly. They were awarded first place in their Senior Design course for this project. Northeastern believes so strongly in this project that they have applied for a provisional patent.
A $5,000 Honorable Mention was awarded to Jeffrey Killebrew for his submission of "Touch Grids".
Touch Grids is an instructional tool developed within Killebrew's physics classes at the New Mexico School for the Blind and Visually Impaired. Touch Grids facilitate greater mathematic and graphical literacy through the conceptualization of many graphical processes that utilize quantitative data by using a series of connectable and interchangeable grid panels, axes, and pegs. Possessing universal design features, this educational tool allows students with visual impairments the ability to bypass their visual deficiencies and gain greater independence, success, and ultimately access to advanced study or employment in STEM fields (acronym for Science, Technology, Engineering and Mathematics). A review of educational research reveals that students with visual impairments and blindness rarely pursue STEM subjects at an upper academic level because they do not have access to materials that allow them to fully understand these concepts.
Jeffrey Killebrew is a Science Instructor at the New Mexico School for the Blind and Visually Impaired in Alamagordo, New Mexico. Killebrew is a licensed Special Education Teacher, a licensed Teacher of the Visually Impaired, and a certified Assistive Technology Instructor. He was also the recipient of the 2009 Touch of Genius Prize for Innovation.
A $5,000 Honorable Mention was awarded to Diane P. Wormsley for her submission of "I-M-Able."
I-M-ABLE is an innovative individualized approach to teaching reading and writing braille that focuses on what is meaningful to the reader. Teachers have had success in using this approach with children who are blind and have additional disabilities and learning difficulties. This project will create a Teacher's Guidebook to accompany the existing I-M-ABLE materials which will include creative suggestions for materials, activities and games, record keeping forms, and case studies of successful students including video clips of lessons with these students.
Diane Wormsley is a Professor of Special Education in Visual Impairment at North Carolina Central Unversity. She is a certified teacher of visually impaired and hearing impaired students and has taught in New York, Pennsylvania, Australia, and Papua New Guinea. Additionally, Wormsley has authored many articles and books on braille literacy and education including Braille Literacy: A Functional Approach. Wormsley envisioned this project because teachers using her approach have suggested that a teacher's guidebook would be a valuable contribution to existing materials.
---
The 2009 Touch of Genius Prize for Innovation was awarded to Jeffrey Killebrew for his submission, "The System for Conceptualizing Spatial Concepts," also known as (SC)2.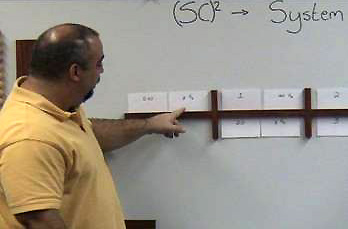 Killebrew using the device in his classroom
(SC)2 is an instructional tool for individuals who are blind that provides equal access and participation in science, math and related coursework. By utilizing a system of beveled and magnetized wooden blocks affixed to a magnetic white board, (SC)2 allows blind individuals to spatially arrange, manipulate, and calculate complex mathematical and scientific formulae by simply inserting 3 x 5 cards that students have brailled with values and labels of each term in a Janus slate. It allows blind individuals equal access and participation in the classroom while encouraging higher order thinking and greater scientific and mathematical literacy for blind students.
Jeffrey Killebrew is a Science Instructor at the New Mexico School for the Blind and Visually Impaired in Alamagordo, New Mexico. In addition to being a Science Instructor, Mr. Killebrew is a licensed Special Education Teacher, a licensed Teacher of the Visually Impaired, and a certified Assistive Technology Instructor. He developed this system for his students when they were having difficulty understanding spatial math problems in his chemistry class.
---
National Braille Press would like to thank all the applicants for the 2008 Louis Braille Touch of Genius Prize for Innovation. The Prize was established, with support of The Gibney Family Foundation, to identify and inspire innovation in the field of tactile literacy for blind people.
After careful deliberation, the adjudication committee has announced that no winner was chosen for 2008.
---
The 2007 Touch of Genius Prize for Innovation was awarded to Karen Gourgey and Steven Landau for their submission of the Talking Tactile Tablet.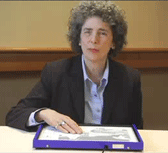 The Talking Tactile Tablet is an inexpensive and simple computer peripheral device that acts as a viewer for tactile diagrams, maps, and illustrations. Users place one of many overlay sheets on the Talking Tactile Tablet device and can explore a graphic using touch sense and/or vision. Dr. Gourgey and Mr. Landau have created a library of software programs for the Talking Tactile Table system, all promoting tactile literacy.
Click here for the Talking Tactile Tablet Video
The recipients presented their device at a symposium at Massachusetts Institute of Technology on October 25, 2007.
Dr. Karen Gourgey comes from a teaching background, having taught English at the high school level for some three years, and then served as an instructor in the Columbia Teachers' College Department of Special Education, where she received her doctorate in 1983. In that same year, she began as the Director of the Computer Center for Visually Impaired People (CCVIP) at Baruch College, City University of New York.
Steven Landau is Director of Research at Touch Graphics, Inc., a company Mr. Landau founded in 1997 for the purpose of commercializing research on audio-tactile interactive computing, to create new products for the blind and low vision markets. The company has been the recipient of numerous US government R&D grants, and has brought to market a Talking Tactile Tablet (TTT), a low-cost computer peripheral device that acts as a "viewer" for images produced in tactile (raised-line and textured) format. In 2006, the TTT won a Gold Medal in the IDEA Awards competition.
Leading support from The Gibney Family Foundation