The 2013 Touch of Genius Prize is being awarded to two innovative projects:
iBraille Challenge Mobile App for kids which will bring learning braille into the digital age
Tactile Caliper, a mechanical device whose deceptively simple design will have global implications for braille literacy.
iBraille Challenge Mobile App
This mobile app supports braille reading and writing of students in grades 1st through 12th grades. It is aligned with The Braille Challenge®, a national Braille reading and writing contest that is taken by more than 1,000 blind and visually impaired students at 43 different sites in the U.S. and Canada

The "iBraille Challenge app" includes three major components: one to focus on reading and another to focus on writing Braille. In addition, it allows teachers to gather much needed data on how kids learn braille which will be invaluable for educators in the future.

The creators of this App are Dr. Cheryl Kamei-Hannan is an Assistant Professor in the Division of Special Education and Counseling at California State University Los Angeles and, Nancy Niebrugge, who is the Assistant Vice President of Programs and Services for the Braille Institute. She is also the director for the annual Braille Challenge.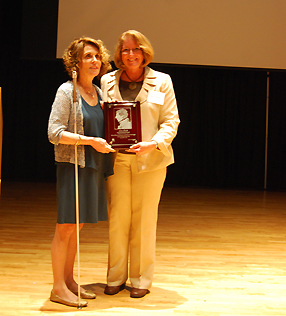 Nancy Niebrugge and JoAnn Becker, of NBP's Board of Trustees
Tactile Caliper
The "Tactile Caliper" is a mechanical device and looks like a traditional Vernier Caliper. The instrument displays complete measurements in braille that can be read instantaneously with accuracy as fine as one-sixteenth of an inch.

One of the most exciting aspects of this project is the mechanical slide system that is used to form the braille cells. With this design, simple braille read-outs can be added to an entire array of home appliances, science and engineering tools, and educational devices at low cost and without the need for electricity. Since many of the world's blind population live in developing countries, the design used to create the tactile caliper will have a tremendous impact

The Tactile Caliper was created by Pranay Jain and Anshul Singhal, graduate students in Mechanical Engineering at Massachusetts Institute of Technology (MIT). Since 2012, Mr. Singhal and Mr. Jain have worked on a start-up, developing Assistive Technologies for the blind, including TacRead, a low cost refreshable braille display.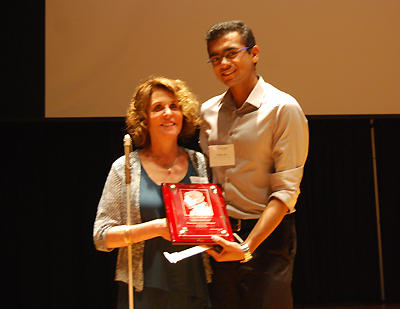 Pranay Jain and JoAnn Becker, of NBP's Board of Trustees
Special Thanks
We would like to thank Frank Gibney of the Gibney Family Foundation, who helped fund and established this award in 2007 to inspire people to go beyond what we thought was possible to further braille and tactile literacy.


The Touch of Genius Prize for Innovation was developed to inspire an innovator to continue the promotion of braille literacy for blind and deafblind people worldwide.
$20,000 will be granted for professional software & apps, educational software and apps, gaming software or apps that promote tactile and braille learning, and braille or tactile-related hardware.
What type of innovation would inspire even Louis Braille himself? Whatever your idea - whether a tactile-based technology project, a viable braille teaching software, a way to inspire pre-school braille learners through tactile hardware, or braille hardware for the community - we want to hear from you.
The Touch of Genius Prize for Innovation has attracted innovators from all over the world in the fields of education, technology, engineering, tactile graphics, and general literacy. This is the only prize to foster and reward innovation and offers a direct and compelling incentive for researchers, teachers and the like to support literacy efforts for blind people. Click here to view past award winners.
The Touch of Genius Prize for Innovation is provided through support from The Gibney Family Foundation. The Gibney Family Foundation supports non-profit organizations that are dedicated to assisting the blind and those who are otherwise challenged.