A hub for imaginative new ideas, inventive tools, and professional expertise National Braille Press developed the Center for Braille Innovation to open up a whole new world of communication for blind people using braille and tactile-based technology. With technology changing daily, blind people need a variety of accessible and affordable tools that interact and complement braille.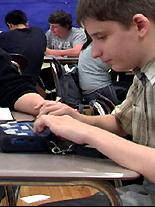 Initially, students need to be able to take notes in class, work on papers, and refer to course materials in order to succeed in school. As they progress, in order to have a professional job, adults must be able to read email, obtain information from the Internet, develop a PowerPoint presentation, or perhaps a legal brief.
Those who learn braille and develop fluency with technology have a significant advantage, are more employable, and are able to shift blindness from a problem to an inconvenience.
An abundance of technical tools and gadgets are available to organize our lives, entertain us, and connect us to home or work. For blind people, the benefits of technology are even greater as these new tools provide the basic ability to access information that was previously unavailable without sight or was difficult and time consuming to retrieve.
National Braille Press has developed a team of experienced academics, engineers, inventors, and entrepreneurs, who are braille readers or experts in the field of blindness. Led by National Braille Press's president, they are exploring new ways to produce:

tactile images,which allow blind children and adults to explore by hand the visual imagery that permeates the sighted world.
braille textbooks and standardized tests,which are unavailable to many blind students who need them due to a national shortage of skilled professional braille transcribers.
technology,to help blind children learn braille and blind adults to keep up with rapidly changing technology.
The Touch of Genius Prize was established to recognize an individual or group of individuals who contribute to innovation in the field of tactile literacy for blind people. The Prize can be granted for a new educational method; a new tactile literacy product; or a new technological advance. The $20,000 prize is provided through support from The Gibney Family Foundation and National Braille Press.
The Touch of Genius Prize, as part of the Center for Braille Innovation, helps inspire innovation in technology and education and acts as a potential vehicle for exploring partnerships with those who are on the forefront of tactile innovations. Learn more about the Touch of Genius Prize.