The National Braille Press Board of Trustees
89th Annual Meeting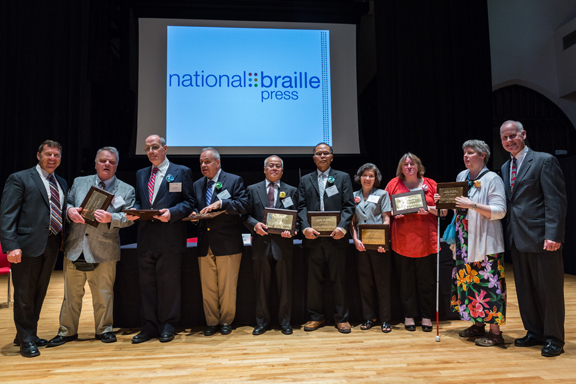 The Annual Meeting was a wonderful event saluting staff who have been at NBP for over 20 years, Elizabeth Bouvier, Kim Tan, Khith Nhem, Tracey Reynolds, Joan Souza, Yeng Peou, Ed Kochanowski, Bill Maling and Chris Devin. Our panel on Braille Menus taught us the importance of advocating for braille menus whether you're at a chain or local restaurant. Remember, to use the hashtag #BrailleMenu and share on social media when you're at a restaurant with braille menus!

We would also like to extend a warm welcome to our new Trustees, Joe Abely, Chris Cavallerano, Ian Cross, Mark Sadecki, Barbara Salisbury, Paul Schroeder, and Matt Sullivan as well as new Members of the Corporation Deane Blazie, Mike Brown, Jennifer Bose and Kara Peters. And a big congratulations to our 2016 Volunteer Award winners, Joyce, Martin, Michael, and Katherine Middleton, as well as IBM represented by Frances West and Peter Fay.

Listen to the program in its entirety on the ACB Radio website.