The National Braille Press Board of Trustees
90th Annual Meeting
Tuesday, June 20, 2017
The Fenway Center
77 St. Stephen Street
Boston, MA 02115
---
On Tuesday, listen LIVE to
National Braille Press's 90th Annual Meeting
on American Council of the Blind Radio!

To listen to the livestream on ACB Radio, you can:
Download the ACB Link app from the App Store for your iOS device. Select the Radio tab, then ACB Radio Streams, and then ACB Radio Live Event.
Listen to ACB Radio with an ordinary telephone by calling 605-475-8130, and then select Option 6.
---

Reception: 5:00 p.m.
Socialize with our Trustees, Members, staff, and others who are passionate about NBP and braille literacy! Light refreshments and drinks will be served.

Program: 6:00 p.m.
VP of Production Jackie Sheridan will discuss the importance of tactile graphics and our role in continuing the legacy of the Princeton Braillists, who recently donated their celebrated collection to NBP.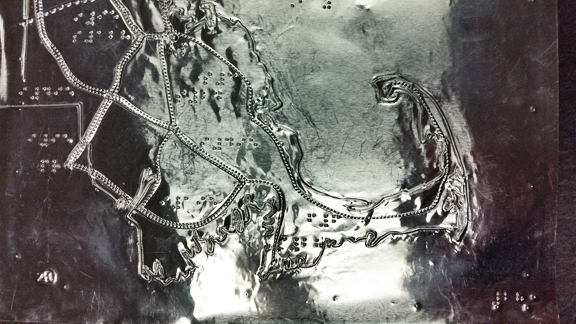 A tactile graphic map of Massachusetts from the Princeton Braillists

Celebrate our 2017 Volunteer Award winners
Corporate partner Ernst & Young
and individual recipient Janet Ulwick-Sacca!

Janet Ulwick-Sacca
Ernst & Young Volunteers

RSVP by June 16th to Marielle Boudreau
at (617) 425-2410 or mboudreau@nbp.org.

Directions and Parking Information for the Fenway Center
By Car from North or South: Take the Mass Ave exit on 1-93 (Southeast Expwy.) Turn right on Mass Ave and go straight until you cross Huntington Ave at Symphony Hall (on your left), turn left onto St. Stephen St. The Fenway Center will be on the right.

By Car from West: Take the Prudential/Copley Center exit 22 on 1-90 (Mass Pike). Keep left at ramp for Prudential Center, keep left at fork onto Huntington Ave/Rt. 9. Take a right onto Gainsborough St and first left onto St Stephen St. The Fenway Center will be on the right.
By Subway: Take the E train on the Green Line outbound to the Northeastern University stop on Huntington Ave. When you exit the train, turn right. Walk along Huntington until you reach a down-slope and an opening on the left. At that opening, cross over Huntington Ave. and turn right. Walk about ten steps and cross over Opera Place (it will be right in front of you). Take a left on Opera Place, pass an alleyway on your right, and continue until you reach the end of the block. Turn right onto St Stephen St.

Nearest Parking: There are limited parking spots available at the Fenway Center.
Alternate garages:
Renaissance Garage, 835 Columbus Ave
Westland Ave. Garage, 35 Westland Ave