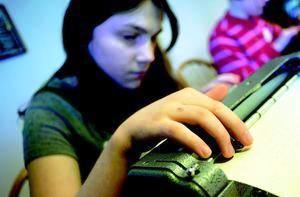 "Why do I need to learn braille?" That was the question I asked my mom and my teacher when I was younger. "I'm doing fine with print." I went blind when I was four years old and in my mind I was fine. I continued to try to read print. I would hold books up as close to my nose as possible, I would squint at the words, all because I wanted to read the same as everybody else. I didn't want to let the words go, until I realized I couldn't keep up. They were reading faster and I was falling behind.
"Braille has made me independent and helped me achieve anything that anyone else can."
I admit I didn't want to learn braille at first. I didn't want to do things differently. And then my mom started to bring home books from NBP's Children's Braille Book Club (CBBC). All my favorites were there! And as I learned braille, I enjoyed these stories again-Cloudy with a Chance of Meatballs, Dr. Seuss-and even better, I started to find my braille books mixed in with the other kids' print books at school and we could even share my books during reading circles! You see, the cool thing about NBP's CBBC books are they have both print and braille pages together so I could share the book with my friends or mom or whoever. I started to love to read again.
I am about to enter Harvard this fall and I know I will be using braille for my tests, work sheets, and my piano playing; just as I had through high school. Learning the piano and playing competitively with sighted pianists was all possible because of braille. When my school lessons became harder, braille and tactile graphics were what made me understand. Braille has made me independent and helped me achieve anything that anyone else can.
I'm sure when I pack my boxes for college there will be a copy of my favorite CBBC book in there. It reminds me that braille helped me get where I am and where I am going.