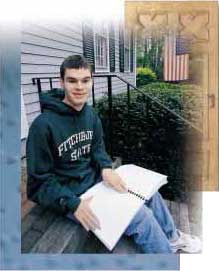 Because I have been blind since birth, braille has always been my primary method of reading and writing. I began learning braille with the assistance of the Children's Braille Book Club, a program developed by National Braille Press.
This club was my first experience in reading books and helped to "open my eyes" to the joy that reading brings all of us. By learning to read braille at the same time everyone else learns to read print, I have developed proficient braille skills and a more advanced knowledge of the literary braille code, the specific contractions used in reading Spanish braille, and the Nemeth Braille Code for studying mathematics.
"In my opinion, the usefulness of braille will never become obsolete, just as print will always be useful."
During 1995, it became apparent to me that I was one of the more fortunate blind students in Massachusetts, as many of my counterparts were not learning braille. In 1996, when I was eleven, I spoke at the Massachusetts State House to promote the importance of braille literacy as part of Braille Literacy Awareness Day. This speech, which I had written in braille, was designed to convince legislators of the importance of braille for all blind students. The state subsequently enacted a law stating that braille should be taught to all students who need it.
As a result of the technological advances in our society, I may not use braille as much as an 18-year-old student living 20 years ago. My computer and portable braille notetaker have speech synthesizers. Yet braille is invaluable on a regular basis for taking telephone messages and reading scripture passages at my local Catholic church. Proficiency in braille is also an essential part of my job as a receptionist directing several hundred daily calls at Collette Vacations, a national vacation company.
In my opinion, the usefulness of braille will never become obsolete, just as print will always be useful. As the 21st century continues, braille is more noticeable in public locations and is more widely taught. I use braille on a daily basis and will continue to use it throughout the rest of my life.