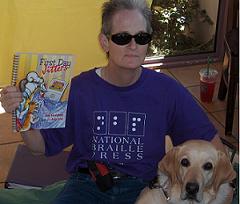 As a child during the 1950s I could read large print and although it was likely that my vision would deteriorate I did not learn braille. There were no special education opportunities at that time. I struggled for many years reading print and large print. I was an avid reader and always had a book in my lap. From adolescence into adulthood reading remained an integral part of my life.
By the time I entered my forties my vision began decreasing rapidly. I could no longer read print but was enthusiastically listening to talking books. I would listen as fast as I would receive the books from the talking book library!
The spoken words were a blessing but I felt such sadness not holding a book, turning the pages, and feeling the comfort of holding it near to me. At age 45, I decided to learn braille. Now, several years later, I continue to be a child of braille and I am able to hold a book and read again.
As a barista, I began a monthly Story Time at a Starbucks in Arizona using print/braille books from National Braille Press. Their books also accompany me as I travel to local schools talking to students about blindness, guide dogs, and braille.
It is absolutely imperative that our visually impaired and blind children learn to read braille and that materials be readily available for them. Without this opportunity we can not prepare these children for success in a sighted world.
Thank you National Braille Press!