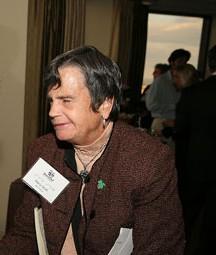 I have always believed in the power of words. Although I was born blind I had a family that found me a supportive residential school and so began my love of learning.
I remember when I was a young girl I was so proud of the fact that I could not only read stories that would take me on different adventures, but that I could also use a slate and stylus to harness the power of words and create my own stories!
I also remember the frustration of trying to find certain books my sighted peers were reading and they weren't available to me in braille. But that didn't stop me. I continued to search out new outlets. I joined the chorus during elementary school and took up piano and guitar and I continue to use braille for my guitar playing and singing at volunteer venues to this day. I like to express myself through my music and would not have been able to do that if I had never learned to read through braille so I could follow along with the music notes.
When I got older and entered college I pursued another love, the Spanish language. I studied it as an undergrad, traveled to Spain and had the most amazing time. It affected me so much I decided to pursue my Masters in Spanish and when I graduated from college in 1967, I went to Perkins School for the Blind to teach Conversational Spanish. I traveled to Peru and taught there as well. I witnessed blind children, who had no books available to them, take the sole copy we had and spend days brailling their own copy with a slate and stylus. These are the moments that moved me to continue my career as a teacher and help blind children understand the world of independence they have ahead of them once they learn to read braille.
Occupation: Teacher

Favorite Book: Charlotte's Web

Fun Talent: I love Spanish!